CD/DVD Releases: Mike Campese Releases ''Electric City''
Electric City is the 7th solo release from guitar virtuoso Mike Campese. The 14 song, over 76 minute CD is filled with some of the most blistering guitar work Mike has ever recorded. The CD kicks off with a bang with the tune "Eleventh Degree" featuring some intense melodic shredding and jazzy harmonies. Just when you thought you heard some crazy guitar playing, Campese takes it up another notch with "Shred Machine," which is just pure non stop shredding done very tastefully. This is definately Mike Campese's most heaviest CD to date, with the down tuned song "Heavy Thing" and the in your face progressive vocal tune "LandShark."
Mike Campese really shows off his versatility with the Indian inspired tunes like "Cruisin Across the Mojave" and "Camelryde." Like each Mike Campese, CD there is something for everyone, Campese does some pretty intense over the top guitar work, especially on the demonic arpeggio blistering tune "Over The Top," which Paganini fans would love, and the face melting tune "Napali Coast." Mike does sing on a few tracks on this disc like on the epic tune "Kauai Blue," which is loaded with lush harmonies.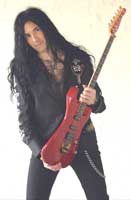 Mike can really shred but he has a strong sense of melody that he is known for which can be heard on his catchy ballad "Closer To The Sun" that has some beautiful haunting melodies. Campese even gets a little funky on the tunes "Butterfingers" and "Punk Ass," featuring some hip sassy melodies. The Mike Campese fans are going to love this CD and it should bring him over the top.
About Mike Campese: Mike Campese is known as a guitar virtuoso, he is an all-around music performer, session artist competent in many musical styles, electric and acoustic. Mike has been featured and is a lesson writer for many national guitar magazines such as Guitar World, Guitar One and Guitar Player, he has done several full page lessons for these magazines. Mike also writes lessons for several online sites such as Guitar9.com, ibreathemusic, Chops From Hell, Shed Academy, Premier Guitar and many more. Mike teaches over 60 students a week and is one of the top teachers in the NY area. He has released 3 instructional DVDs for Chops From Hell, "Virtuoso Rock Fusion Concepts," "Creative Speed-Building Picking Techniques" and "Melodic Shred."
Mike attended one of the world's top guitar school Musicians institute (GIT) in Hollywood, California and graduated with Honors. He studied with many great players such as Paul Gilbert, Scott Henderson, Norman Brown, Stanley Jordan, Keith Wyatt and many more.
Mike was a member of the Trans-Siberian Orchestra and recieved a Gold record for his work and has appeared on the Jason Becker tribute CD Warmth In The Wilderness on the Lion Music label in Finland, which was a international release. Mike performed and opened for many national acts such as Yngwie Malmsteen on 2 tours, Michael Shenker, The B-52's, Lou Reed, The members of Yes and Asia, KC and the Sunshine band, Spin Doctors, Little Steven, Sylvain Sylvain of the New York Dolls, Sebastian Bach on 2 tours, Dokken, Kip Winger, Rik Emmett Of Triumph, Lizzy Borden, Vinnie Moore and many many more.
Mike has released 7 solo CDs to date and performs locally and nationally. January 2007 -2010 Mike played at the NAMM show in Anaheim California. Mike's fan base is growing internationaly and has appeared on national radio and TV and his music has been used for a Lion's Gate movie. He is endorsed by several national companies, be sure to visit www.mikecampese.com for more info and shows.
"Electric City" Tracklisting:
1- Eleventh Degree
2- Shred Machine
3- Heavy Thing
4- Cruisin Across The Mojave
5- Over The Top
6- Kauai Blue
7- Closer To The Sun
8- Napali Coast
9- Punk Ass
10- Landshark
11- Shred
12- The ***** Upstairs
13- Butterfingers
14- Camelryde
[Source: TSM Productions]