Festival News: RoSfest Announces Going For The One - After Hours Party 2011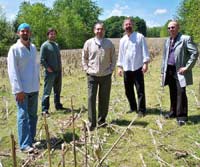 RoSfest Presents Yes Tribute Band Going For The One For The Friday Night After Hours Party
Going for the One was formed by guitarist John Covach (Land of Chocolate) in the spring of 2009. In a general sense, the group is a Yes tribute band. But from the beginning, Going for the One was conceived more as a repertory ensemble ? that is, a group of musicians dedicated to performing a particular body of music in a way that recreates the original performance approach and sound but is not a slavish or literal imitation.
No costumes, wigs, or phony accents are employed; rather, the band is focused on faithfully performing Yes music in a manner that keeps it fresh and vital. Going for the One debuted in the fall of 2009 and has since kept up a regular pace of live shows throughout the mid-Atlantic and northeastern states.

Covach is joined by founding members Jimmy Warlick (Driven to Tears) on vocals and Chris Meeker (Mind Sky) on bass ? the vocal trio of the band. Matt Riddle (Envision) handles the multi-keyboard duties for the group, while Mark Annal (Driven to Tears) anchors the polymetric rhythmic musical textures on the drums. During the 2010-2011 concert seasons, the band performed The Yes Album to celebrate the 40th anniversary of that classic recording. The current set includes music from The Yes Album, Fragile, Close To The Edge, Yesterdays, and Going For The One.
Going For The One Myspace | Going For The One - YouTube 1 and Going For The One - YouTube 2
-------------------------------------------------------------------------------------------------------------------
GOLD SEAT TICKETS FOR THE 8th ANNUAL RITES OF SPRING FEST
Gold seat tickets go on sale November 6th at 12:00 noon EST for the 8th annual Rites of Spring Festival, which is set to take place at the Majestic Theater in Gettysburg, PA on May 20th, 21st, and 22nd, 2011.
The performing bands for Friday include - After hours band Yes tribute band Going For The One and three other bands to be announced. Saturday's line up includes Poland's symphonic prog band Osada Vida, California Art Rock band Phideaux, followed by Eric Norlander's Instrumental progressive rock band Galactic Collective and headlining Saturday night is Daemonia, purveyors of fine dark cross over prog. Sunday's lineup includes California cross over band Mars Hollow, followed by Chicago's own District 97 and UK band The Reasoning. Sunday night's headliner will be announced soon.
You can order your tickets online at www.rosfest.com and click on the Ticket info tab and then scroll down to Gold Tickets and click on that link. On this tab you will be instructed to click on a link that will be active on Saturday, November 6th at 12 noon. Once that link becomes active it will open up an order form where you will call (484) 432-7357 or (816) 769-1667 to order your tickets. You must call to reserve your tickets before filling out any forms on the site. You will have the option to pay for tickets by check, money order or PayPal. Please fill out the form on the website with your personal information so we know where to send your tickets. Let's make this a successful year and come out and support RoSfest.
Regular seat tickets will go on sale on February 5th, 2011 at 9 AM available through the Majestic theater box office - www.gettysburgmajestic.org
[Source: George Roldan/RoSFest]