CD/DVD Releases: New CD From Le Orme Due Mid-April

Le Orme will release La Via Della Seta (The Silk Road) in mid-April.
Like the Phoenix, like the cat with seven lives, like the Highlander, Le Orme are reborn and return every time more extraordinary and exciting than ever.
Some misunderstanding had undermined the existence of the progressive group longest in history but with an incredible backlash drummer Michi Dei Rossi has taken over the situation firmly and well, giving new life to one of the most amazing legends that Italian music remembers.

Le Orme, [a band] that with the album Collage (1971) started the progressive music [movement] and [created] a turning point in Italian society, rise from their ashes with an exciting concept album for the ages. La Via Della Seta will be released in mid-April and was previewed to the press on March 21 at the Hard Rock Cafe in Rome (taking part were Michi Dei Rossi, Dino and Jimmy Spitaleri Gasperini, Minister of Culture of the City of Rome) and at a concert on March 22 at the Casa del Jazz in Rome.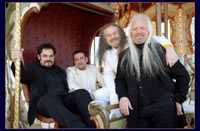 Le Orme enrich their outstanding creative work that continues with yet another unstoppable [album], [following] the path along the streets of symphonic rock, progressive and romantic; this path which, over 45 years, has given birth masterpiece albums such as Collage, Uomo Di Pezza, Felona E Sorona, Contrappunti, Florian ... today is more alive now than never. All this demonstrates that the project, thanks to the affection the fans have shown over the years, will continue for a long, long time with the quality that distinguishes them. Yesterday, today and tomorrow only Le Orme!
La Via Della Seta - CD, LP, and LP+CD:
"... Buildings covered in gold and humble huts, men and men of knowledge of travel, preachers and merchants, inveterate liars and people of faith. The Great Wall of China, Genghis Khan and Tamerlane, treasures and myths, and Burana Tower the path of Alexander the Great. The dream of Eurasia and that of Marco Polo. East and West, two worlds that seek a long history ... thousands of years ... "
The album has many reasons to be remembered and [but let's] quickly jump to the story. First is the first of the "new course" of Le Orme, guided by Michi Dei Rossi but assisted by five excellent musicians. So why return to the historical vision of the concept album? This album, you can imagine from the title, is dedicated to the meeting of peoples from ancient times, long before Marco Polo, [who] have found the right size on the Silk Road. A metaphor about man in search of religious and cultural detente. Finally, because it will be released on vinyl and CD at the same time; not only that, but the first 99 copies of the LP (hardback gatefold / polished - 180 gram vinyl) will be numbered and will also include the so-called goldleaf in the same job and for the restricted circle of fans. A truly unique collector's item!
In addition, the release of the new work will be supported by a substantial tour that will bring Le Orme from north to south, from Rome and touching Naples, Lecce, Rieti, Treviso, Trieste, Ferrara, Turin, Milan, Venice and many other locations.
Le Orme are:
Michi Dei Rossi, drums -- a fixture of Le Orme's history but also of the Italian progressive rock band has been leading group for nearly 45 years. [All during] the high (70s) and low (80s) [points of] Le Orme's career [he has] never [lost] sight of the goal of good music and undermined the unwavering loyalty to the largest Italian band. Now the "Warrior of Music" is back on the road.
Michel Bon, keyboards -- Bon who graduated in music theory at the Conservatorio Pollini of Padova, working with Le Orme from the end of the year '80 but he was hired as keyboard player in 1990, replacing Tony Pagliuca. So for more than 20 years is the alter-ego of the volcanic drummer and soundtrack of Le Orme.
Fabio Trentini - bass, guitar -- a native of Rome, but has experienced his greatest successes as a producer in Germany (Guano Apes, Subway To Sally. Nina Hagen, etc...). [For t]he new project of Le Orme, [he has] worked for some time as a bassist and guitarist making his international experience.
Jimmy Spitaleri, vocals -- it would take volumes to tell the story of the great singer. We simply say that with Metamorphoses, a band of progressive years in the '70s, who realized 2 LPs, authentic and hard to find jewels (E Fu Il Sesto Giorno, Inferno) and the prog world envies us even now. After years of personal projects, he agreed with Michi's enthusiasm for the offer of the lead singer [job] in Le Orme, more angry and aggressive than ever.
William Dotto, guitar -- Director of the Institute of Modern Music Treviso is a perfectionist of the guitar (especially in chordal tapping) as well as excellent violinist and pianist. Will be back on tour with the historic band.
Frederic Gava - piano -- Gava has only twenty years of age but experience to navigate [as a] musician. [In his] eighth year at the conservatory in Venice, he has played in bands and [with] progressive young people in a celebration of the album Collage where exactly was noted for the perfection of its contribution. He has a reverence for King Crimson, Genesis, and of course for Le Orme; this is his second tour as a pianist.
Michi Dei Rossi - thought:
Michi, why even pursue the project and stubbornness in Le Orme?
Because I love freedom of expression that makes me feel the music progressive ... since being a progressive means to have within itself all that is lacking in the music played on the radio and that erodes the charts ... because the current band is fantastic ... because the fans love us and our concerts are always a big feast for the ears, eyes, heart ... because we still have many ideas and many projects ... because we and the fans we have become a family and at this time without the family values ​​is a gem to hold tight ... because I hope and believe in the future ... because this new course of 20 years has rejuvenated me and gave me energy for another 20 years ... Why, why, because in my life because I have too many ...
Tour 2011 - Line-up:
Michi Dei Rossi: drums, percussion
Michele Bon: Hammond organ, synths, keyboards and vocals
Fabio Trentini: bass, acoustic guitar and vocals

with
Jimmy Spitaleri: vocals
William Dotto: acoustic and electric guitar
Frederic Gava: piano, synth, keyboards
Tracklisting:
01) - L'alba Di Eurasia
02) - Il Romanzo Di Alessandro
03) - Verso Sud
04) - Mondi Che Si Cercano
05) - Verso Sud (ripresa)
06) - Una Donna
07) - 29457, l'Asteroide Di Marco Polo
08) - Serinde
09) - Incontro Dei Popoli
10) - La Prima Melodia
11) - Xi'an - Venezia - Roma
12) - La Via Della Seta
Arranged by: Michi Dei Rossi and Michele Bon
Manufactured by: Le Orme
Executive production: Enrico Vesco
Official Fan Site (which is currently more up to date -ed.)
[Source: LeParc, (loosely) translated]