Artist News: Glenn Hughes Joins Planet Rock To Launch Weekly Radio Series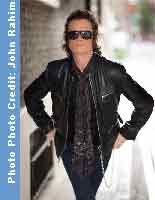 Glenn Hughes, the former singer and bass guitarist with Trapeze and Deep Purple, and currently the front man of the critically acclaimed rock supergroup Black Country Communion, will launch an exclusive weekly radio show on Planet Rock from Sunday June 5th at 6pm GMT.
Every week, Glenn will choose his favourite rock songs, and seminal tracks that have influenced him over the years, plus songs that continue to inspire him today. As one of the true rock 'n' roll icons, Hughes will reveal controversial tales and anecdotes from his long and glittering career, during which he's played with some of the biggest and best bands and artists of all time. Get ready for stories about his experiences with Black Sabbath, Ronnie James Dio, David Coverdale, Led Zeppelin, David Bowie, Deep Purple and the Red Hot Chili Peppers, to name but a few.

"I would like to thank Planet Rock for giving me the opportunity to share with listeners the songs that have shaped my life," says Hughes. "Every song is chosen by me, and there will rock 'n'roll stories along the away. I am a messenger..."
"Hughes continues Planet Rock's tradition of bringing rock's biggest names to the airwaves," says Planet Rock's Programme Director, Trevor White. "After a career spanning 40 years, he brings a wealth of stories from his life on the road, in the studio, his friendships with the likes of Keith Moon and Bonzo, the highs, the lows, and of course, the excesses. His choice of music will make the show a must listen."
The series will run on Planet Rock on Sunday evenings at 6pm - 7pm beginning on 5th June. For further info click here - www.planetrock.com
The news of Glenn's Planet Rock radio series dovetails the June 13th release of BCC's highly anticipated second album 2, plus BCC's upcoming UK July tour that includes the following dates - Llandudno Cymru Arena (July 23), High Voltage Festival, London (July 24), Leeds o2 Academy (July 26), Newcastle o2 Academy (July 27), Glasgow o2 Academy (July 29) and Manchester Academy (July 30).
[Source: Noble PR]