CD/DVD Releases: Robin Talks About Travellers, Wojtek Szadkowski's New Project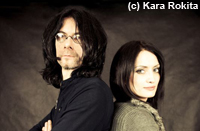 Travellers - this new musical project was brought into existence by Wojtek Szadkowski, known from his work in such acclaimed bands as Collage, Satellite, and Strawberry Fields. The band recorded their debut album in a line-up consisting of Robin (vocals), Grzegorz "sencha atta" Leczkowski (guitars), Krzysiek Palczewski (bass), and Wojtek Szadkowski (keys, drums). A Journey Into The Sun Within consists of 6 tracks and as Wojtek Szadkowski describes: "It's a mixture of prog, ethnic music, the 80's, a large dose of magic and space, all of this crowned with Robin's beautiful voice..."
And today Robin explains why she decided to work with Wojtek once again: "Working with Wojtek is spontaneous. When you enter the studio, you often don't know what you will be singing. You have a general idea but new things come up once you start recording. Quite often there are no lyrics, or no complete lyrics. And that's the best thing about it. You feel that you can finally relax, feel free, feel some real emotions singing something that was written literally just a minute earlier.

"For me, the greatest pleasure was to sing those parts for which the lyrics were written 'on the fly' in the studio and which I sang at the very beginning of the recording session, just like it was in the case of the chorus for 'I See The Light' - I sang that one only once or twice before it was recorded and the lyrics were written at a bus stop."
Robin also talks about the lyrics that she wrote for the project: "I think that I feel the most emotionally attached to the lyrics of 'I See The Light.' It's full of optimism and hope for a new beginning. There's also lots of optimism in 'The Sun.' The lyrics are very simple. You don't think, you just feel the joy of existence. Just like you don't think when the weather is beautiful, the sun is shining and you feel happy. You seize the moment and enjoy it. If you can do that, you may consider yourself a happy man. 'Magic' was one of the first songs that was written for the album. From the beginning, it was the album's leitmotif. It defined the album's character - magical prog ethnic music. The lyrics for 'Magic' were written quite a while ago. I wrote them in my own sadly ironic, twisted way - Strawberry Fields style. At first, Wojtek didn't like it so much. He wanted something more optimistic but, finally, he was charmed by the lyrics' mood as well. Still, he decided to lighten it up a bit by adding the part 'I thought it's magic everywhere. I thought it's more than meets my eye. I still believe I'll hear someday a distant voice of the unicorn.' The lyrics for 'Letters To God' turned out to be a tough nut to crack because, from the very beginning, that song had its title and it was clear that the phrase 'letters to God' had to appear somewhere in the lyrics, though it was not clear in what particular context. Each one of us had a different idea of writing a letter to God. We couldn't arrive at a compromise. To write these letters or not to write them? Does it make any sense? Finally, the music and the mood of the moment shaped the character of the lyrics."
Metal Mind Productions will release A Journey Into The Sun Within on 6th of June in Europe and 12th of July in USA (via MVD).
[Source: Metal Mind (photo: Kara Rokita)]