Festival News: Ohio Prog 2012 Announced For Sept 7, 8 & 9, 2012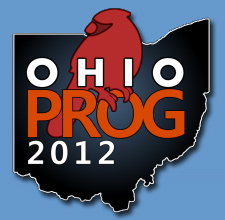 Ohio's premiere progressive rock festival, OhioProg, announces its inaugural year. OhioProg is set to take place over three days, September 7, 8 & 9 of 2012. An exceptional line-up has been assembled which includes a Friday pre-show, "A Tribute to the Classics," and a Saturday & Sunday full-day main event. [In the words of Chrissie Hynde, "way to go, Ohio"... though not meant in the same way as she -ed.]
[So... who are the Ohio players?...] The schedule features the Yes cover group Going for the One, and Script for a Jester's Tour, a Marillion tribute act featuring original Marillion drummer Mick Pointer and Nick Barrett of Pendragon. FM, a regrouping of Cameron Hawkins' Canadian progressive rock act, will headline day one of OhioProg 2012. 2011 marks the 35th anniversary of the band's inception.

Headlining day two of OhioProg 2012, Dan Swanö and brother Dag Swanö return from Sweden to bring their progressive rock act, Nightingale, back to the US for their second ever appearance, their first since 2001. Mick Pointer, Clive Nolan, John Jowitt, John Mitchell and Paul Manzi round out the all-star cast of the veteran UK progressive rock band that is Arena. Jowitt returns to Arena on bass and the band will have a new album under their belt before OhioProg 2012. RC2 from Barcelona will be making their first US appearance at OhioProg 2012. After nearly 20 years together, Persephone's Dream of Pittsburgh will be making their first ever northeast Ohio appearance at OhioProg 2012, as will Maryland's Orphan Project. Connecticut based band, After the Fall, have regrouped for an OhioProg 2012 appearance. After the Fall's last release, kNOwleDGE, came out in 2005. Additionally, hailing from Florida, progressive rock festival veterans, Cryptic Vision, return to the festival circuit with a new album forthcoming, the third album in a trilogy started in 2003 with Moments Of Clarity. Additional acts will be announced in coming months.
OhioProg 2012 has turned to Kickstarter to help ensure its success by rolling out a "Pledge Your Ticket" program. By pledging at various tiers you can secure a ticket of your choice to either the Pre-Show or Main Event, or both. A number of rewards will be given for specialized pledges, and patron tickets are available for those who wish to have first choice of seats. Pledging begins September 2nd, 2011 and is a great way to show your support to the progressive rock festival community even if you are unable to attend the festival. Pledges start as low as $1, and even non-attendees can walk away with an OhioProg 2012 program, poster, t-shirt or limited edition compilation by pledging at the appropriate tier. Pledges will fund all aspects of the festival including all operational, marketing, and transportation costs. "Pledge Your Ticket" funding goals must be reached by the end of the day on November 30th, 2011. Pledges will only be processed on November 30th if the festival reaches its funding goals. If funding goals are not met, the festival will be cancelled and pledge funds will not be processed.
The location for OhioProg 2012 will be released in the upcoming weeks. More information and news on OhioProg 2012 can be seen at the festivals website, ohioprog.com. Any questions may be directed to ohioprog (at) gmail.com. Latest updates on OhioProg 2012 can also be found on our Facebook page, our mySpace page, or by following us on Twitter @OhioProg.
[Source: OhioProg]