CD/DVD Releases: More June Releases/Distributions From Musea
In their second update, Musea announced the release of several ambient releases, distributions from the BSC Prudence, several world music releases from Acoustic Music Records (all detailed below), plus: Pyg - End Of The World: Yvan Guillevic is a guitarist fed with the psychedelic and bluesy riffs of Jimi Hendrix, Stevie Ray Vaughan and Jeff Beck and with the acrobatics virtuosos of Steve Vai, Joe Satriani or Eric Johnson. He's addicted to the Pink Floyd's and Marillion's progressive rock atmospheres, or the heavier ones of Led Zeppelin, Van Halen, and Iron Maiden.
Pyg was created in June 2010: Guillevic is the author, composer and, of course, guitarist of this new adventure, progressive rock music with some hard-rock and even some heavy-metal roots.

First piece of this new project, the album End Of The World (2011), is a disenchanted report of our society where profit by any means has become the only philosophical reference driving us irreparably to the end of humanity and maybe even the end of our planet. The album brings us in a sound universe with admitted influences of Seventies and Eighties progressive rock bands as Yes, Pink Floyd, Marillion or even Supertramp, also mixing heavy-metal energy of bands such as Judas Priest or Queensrÿche. The vocal power of Morgan Marlet and Nelly Le Quilliec benefits from the rhythmic section of Julien Oukidja and Bernard Clemence, also highlighted by Jean-Noël Roze's keyboards chords. The guitar riffs by Guillevic, sometimes circling, sometimes incisive, strengthens the melodic side of Pyg.
A jazz release via the label comes in the form of Yochk'o Seffer Neffesh Music - Noce Chimique. In order to develop further a very personal style of music performance and after having left Zao, Yochk'o Seffer founded Neffesh Music ("Soul's Music") in 1976. Created thanks to jazz and rock as well as Hungarian roots, this original band is made of the rhythm section Dominique Bertram (Bass) and Francois Laizeau (Drums). Apart from them, we can also find the famous Quatuor Margand to complete the band. Yochk'o Seffer Neffesh Music recorded three albums: after Délire in 1976 and Ima in 1977, Ghilgoul finally closed that chapter in 1978. The Musea reissue of this last album includes a complete bilingual biography as well as three bonus tracks recorded three years later with a different team. To be urgently rediscovered!
Three decades later, Neffesh Music is back on track with Ezz-Thetics Travel. This new opus, published in the year 2008 on the Great Winds label, sees Yochk'o Seffer performing with a cello quartet, François Causse on percussions, and DJ Grégoire Dorville (L'1PI). Using the tarogato (a mediaeval Hungarian instrument) and tenor saxophone, as well as zirnus and a sculptophone of his own, he composed eight instrumental pieces with all the combinations allowed by this strange line-up. Here's a contemporary music that combines a jazz pulsationwith the influences of classical composers like Stravinsky, DeBussy or Bartok ... Without mentioning the modern and urban sounds of the DJ. It's kind of a classical contemporary music, never heard before, and quite fascinating.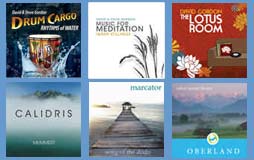 The BSC Prudence releases are: David & Steve Gordon - Drum Cargo - Rhythms Of Water and Music For Meditation - Inner Stillness, David Gordon - The Lotus Room, Mummert - Calidris, Marcator - Song Of The Dodo, and Robert Simon Thoma - Oberland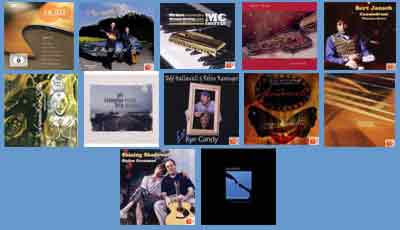 From Acoustic Music Records: Various - Acoustic Guitar Masters - Volume One DVD, Thierry Massoubre and Jefferson Louvat - A Walk With You, Matt Walsh & Christian Bleiming - M.C. Shuffle, Manfred Leuchter & Ian Melrose - Kein Schöner Land, Bert Jansch Conundrum - Thirteen Down, Schrammel & Slide - Sieben/Seven, Uli Kringler Trio - Road Movie, Todd Hallawell & Robin Kessinger - Ear Candy, Hajo Hoffmann - Mandovocale - Licht Und Schatten, Giovanni Palombo - Le Melodia Segreta - A Secret Melody, Stefan Grossman - Shining Shadows, and Dirks Und Wirtz - Kinski Spencer Gismonti.
[Source: Musea]