Artist News: Threshold Singer's Illness Forces Shows Cancelations...

Arena Replaces Threshold At ROCK ITtervoort 2012
British progressive metallers Threshold have announced the cancelation of all their shows that were planned for April. Threshold is currently in the studio recording its ninth album, March Of Progress, but regretfully vocalist Damian Wilson has been taken ill so all of the band's plans are now delayed.
Wilson (Headspace, Star One, among others) rejoined Threshold in 2007 following the departure of Andrew "Mac" McDermott, who sadly passed away in August 2011.
March Of Progress is being produced at Thin Ice Studios and Eightspace Studio in the U.K. by Karl Groom and Richard West. Provisional songtitles set to appear on the CD include:

* Ashes
* Return Of The Thought Police
* Colophon
* Staring At The Sun
* Liberty Complacency Dependency
* Divinity
* The Hours
* Don't Look Down
* That's Why We Came
* The Rubicon
* Coda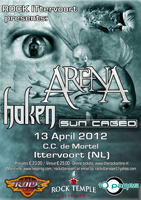 As reported to us (PW) by the folks at ROCK ITtervoort: "We're proud to announce that Arena will replace Threshold as headliner of ROCK ITtervoort 2012 [on April 13, 2012]. After the announcement that Threshold cancelled all their April gigs, including Rock Ittervoort, we started searching for a good replacement. We're convinced that Arena is even more than that. Arena returns after 4 years to Ittervoort for an exclusive gig. This gig will be the only one for continental Europe this spring.
"Arena is a very populair progressive rockband, founded in 1995 by Clive Nolan (Pendragon) and Mick Pointer (ex-Marillion). Musically the band's style ranges from symphonic to hard rock. At the end of last year, they released their latest CD The Seventh Degree Of Separation. With this album they are still one of the best bands on the English scene.
"Rock Ittervoort is an annual prog-event in Ittervoort, a small place in the south of The Netherlands nearby Germany and Belgium (Aachen, Düsseldorf, Maaseik (B) and Hasselt (B)). Previous years we had bands as Pendragon, Riverside, Arena and Karmakanic feat. Roine Stolt."
Also on the bill, Haken and Suncaged.
[Source: Blabbermouth.net and Rock Ittervoort 2012]