CD/DVD Releases: Mike Portnoy, Steve Morse And Neal Morse Unite In Flying Colors
Mascot Label Group has announced the release of the eponymous debut album from Flying Colors -- the spectacular new virtuoso prog/pop/metal rock band formed by drummer Mike Portnoy (ex-Dream Theater) and guitarist Steve Morse (Deep Purple). The CD will be made available via Music Theories Recordings in the U.K. on Monday, March 26, followed by a U.S. release on Tuesday, March 27.
Flying Colors is Mike Portnoy (drums, vocals), Dave LaRue (bass), Neal Morse (keyboards, vocals), Casey McPherson (lead vocals, guitar), and Steve Morse (lead guitar).

"This album has bits and pieces of what you'd expect from each of us," says Portnoy. ""The sum of all its parts led to brand new, unchartered territory for everyone involved."
The formation of Flying Colors began with a simple idea: virtuoso musicians and a pop singer joining together to make new-fashioned music the old-fashioned way. Refreshing, classic, old and new, the recordings are saturated with the many styles, tones and hues of the players who in becoming a band have delivered a unique fusion of vintage craftsmanship and contemporary music.
In 2008, executive producer Bill Evans brought the idea to the world-renowned musicians and producer Peter Collins. Intrigued by the idea and the prospect of working together, the four musicians signed on to form a band and record a first album.
Steve Morse and Dave LaRue have developed magical music chemistry over the years that began early in their careers as partners in Dixie Dregs. In 1995, Morse subsequently became a member of Deep Purple, while LaRue's ongoing musical adventures include Joe Satriani, John Petrucci, Jordan Rudess, Steve Vai, and the aforementioned Portnoy.
Multi-instrumentalist, composer and singer Neal Morse is one of the leading figures in progressive rock, whose notoriety follows his co-founding of the seminal band, Spock's Beard in 1995, recordings as a solo artist, and contributions to the super-group Transatlantic.
Mike Portnoy is one of the most popular and respected drummers in both metal and rock, and an accomplished writer and producer. He is the recipient of numerous industry accolades, including 26 Modern Drummer awards, Revolver magazine's Golden God award for "Best Drummer" and Drum magazine's "Drummer Of The Year." He rose to prominence as the leader, drummer, producer, and co-writer for metal/prog juggernaut Dream Theater, before moving on in 2010. That same year, he worked on Avenged Sevenfold's #1 album Nightmare and their subsequent tour.
It was Portnoy who recommended Alpha Rev's emotive singer Casey McPherson as a contender to join Flying Colors. McPherson, whose 2010 Hollywood/Disney album New Morning debuted in the Top 5 on two Billboard charts, enjoyed major success at radio with multiple hits. The track "New Morning" spent 17 weeks in the Top 10 on Triple A Radio, and enjoyed a run on VH1's Top 20 Countdown for months. Steve Morse offers, "Casey was a glorious find, because he could make anything sound fantastic, and is a multitalented like the others."
Flying Colors convened for just nine days in early 2011, and composed and recorded this album during a short and intense session.
"It was quite an experience," recalls Dave LaRue. "The band moved at a fast pace, ideas flying around the room at all times. Sections of tunes were arranged, and then re-arranged. Ideas were tried every which way until we made them work, or, in some cases, discarded them altogether. Just keeping track of everything was a challenge!" The album is filled with trial and triumph. It's been an inspiring challenge melding folk, prog, pop, and metal all into one big recording."
Touring plans for Flying Colors will be announced in the coming months.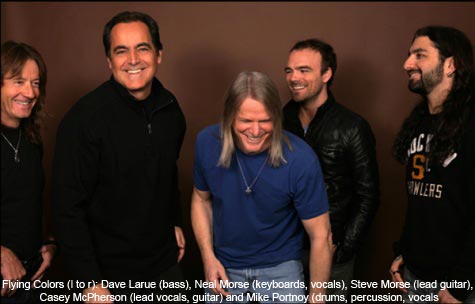 In other Portnoy news, he, bassist Billy Sheehan (Steve Vai, David Lee Roth), guitarist Tony MacAlpine (neo classical-metal style, Steve Vai) and keyboardist Derek Sherinian (Dream Theater, Planet X, BCC) performed Saturday, January 14 at the twenty-third annual Guitar Center's Drum-Off, the nationwide search for the next great undiscovered drummer, at Club Nokia in Los Angeles, California. You can now watch video footage of their performance via the links below: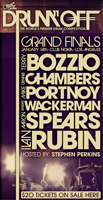 MacAlpine, Sheehan, Portnoy 1 | MacAlpine, Sheehan, Portnoy 2 | MacAlpine, Sheehan, Portnoy 3 | MacAlpine, Sheehan, Portnoy 4
In addition to all the incredible performances, the night featured the Drum Legend induction of drumming greats Peter Criss (KISS) and Terry Bozzio (Frank Zappa, Missing Persons). The Drum Legend induction honors icons in the drum world that have paved the way for today's drummers. The award is given to those that have made significant contributions to the craft and have hugely influenced players by their style and illustrious musical career. Past inductees include John Bonham, Billy Cobham, Nicko McBrain, Steve Smith, Dave Garibaldi, Alan White, and Greg Errico.
The Drum-Off champion won the grand prize package, valued at nearly $50,000, which includes: $25,000 cash, a feature in Modern Drummer magazine, 2012 NAMM VIP Experience, recording time at the Converse Rubber Track Studios and thousands of dollars in gear and endorsement deals from the drum world's top manufacturers.
Portnoy interview at Drum Off
This same grouping -- Porntoy, Sheehan, MacAlpine, and Sherinian -- headlined Sabian Live on Friday, January 20 at the Sheraton Park Hotel (next to the Hilton) in Anaheim, California as part of the the 2012 NAMM (National Association Of Music Merchants) show. Video footage of their performance can be seen below. Also appearing at the event were Virgil Donati with Allan Holdsworth, Jimmy Haslip and Dennis Hamm; Tony Royster Jr. and friends; with special guest appearances by Orestes Vilato and Sandy Perez.
Portnoy, Sheehan, MacAlpine and Sherinian at Sabian
[Source: Blabbermouth.net]