CD/DVD Releases: Musea Releases For The First Quarter (Or So) Of 2015 (Part 1):
From the press releases from Musea sent over the last two to three months, here's part 1:
PTF - What Is Constant: PTF is a promising violin-lead Progressive rock band coming from Japan, obviously inspired by KBB. Its line-up consists of violin, keyboards, bass and drums. These musicians are totally awesome, forming a high-quality ensemble, and it's hard to believe that Percept From... (Musea Parallèle, 2013) is their debut album! Every number brings drastic and dramatic emotion with brisk but unfathomable scale to the listener. They expand the audiences of their live shows in Japan because of their beautiful melody with a high regard for large-scaled ensemble and also the hard and expressiveness performance. Please check them out! What Is Constant is their latest.


Glenn Thompson - Memory Babe: Memory Babe is an album richly celebrating the traditions of symphonic rock, folk and jazz fusion. Glenn Thomson has produced a work of rare beauty with a deep and lasting value. The album opens with "Who's Going To Say," a magnificent long form symphonic journey that combines powerful melodies with a startling fusion of styles, reminding us in part of Pink Floyd, Bowie and the best of sixties, psychedelic folk."Wishes Of The Earth" is a memorable anthem with sophisticated lyrics and contrasting, jazz inflected verses and an open, driving chorus with a beautifully cinematic sound."Walk The Course" is Glenn Thomson showing us again how pop and electronica can combine into a concentrated symphonic masterpiece that is bound to win new fans. "Common Ground" is a ballad of such delicate beauty resolving into a powerful and original Hammond, choral rock out that will leave you inspired and wanting more. The title track, "Memory Babe," is another symphonic masterpiece. This instrumental fuses Mediterranean folk with evocative Middle Eastern flavours echoing Vangelis and Peter Gabriel before resolving into an uplifting, high geared, virtuoso rock out, with incredible melodies and driving beats. The piece, a meditation on memory and its power to transport and transcend, concludes with a stunning orchestral coda. "Holy Bright" is a jazz fusion masterpiece. The Rhodes solos are some of the most inspired we have heard, leading to a magnificent and elevating conclusion. "Babylon" is a collaboration with the Welsh born, Paris based artist and poet Panmelys, who is also the legendary host of the Sunday afternoon tea parties at the Shakespeare and Company bookshop in Paris. Featuring an extract from her work, "The Chant," Glenn Thomson has created a progressive pop portrait of language and its power to inspire. Beautifully packaged, with artwork and design by Marisa Passos, Memory Babe is an unmissable, soon to be classic, album.
Olympe (Cathala / Grimal / Payen) - Live In Montrueuil: A few years ago, during an impromptu concert at L'Olympic Café, a trio defined by three strong personalities formed - Sylvain Cathala (Print, Sylvain Cathala Trio…), Alexandra Grimal (Naga, ONJ…), and Stéphane Payen (Th&ocaret;t, The Workshop). During this first concert, the three musicians combined their respective musical universes through different pieces created for the occasion. Subsequently, over meetings and concerts, the music evolved to become that of a true trio without a leader. The divisions disappeared and gave way to a more freeform improvisation that is testimony to the fact that through their various experiences, these three blowers are much more than saxophonists. [Loosely translated from French with help of Google… -ed.].This release sees the trio Live in Montreuil, as derived from the title (naturally), recorded December 1, 2013 at La Guillotine in Montreuil, France.
The Enid - En Concert à Crescendo: Recorded live in August 2014 at the French Progressive Rock Festival Cresceno. The band note on their website, "To our joy and surpise, we were recently informed by the organisers of French Progressive Rock Festival Crescendo that a local film maker had filmed our entire performance last August. We were totally unaware of the cameras at the time, but having now seen the footage we are blown away by the film's quality.
"Luckily for us we had invested in a new self monitoring system this year which allows us to do multi-track recordings of our shows. This has taken some getting used to, but our performance at Crescendo happens to have been recorded by us with no technical difficulties. Therefore we have been able to combine our High Quality audio with the HD video edit from SKOP Art Films to provide a wonderful concert experience for you to enjoy in the comfort of your own home. Max has just completed mixing the soundtrack in 5.1 Surround and it's sounding amazing. We have put up some preview clips for you to enjoy on YouTube. Please Click Here to watch." (Available as both a DVD and Blu-Ray).

King Crimson - Live At The Orpheum: King Crimson has performed, recorded & released material in its own inimitable manner for the past 46 years. As the band enters its 47th year of operation in 2015, the occasion is marked with the first release culled from the band's Autumn 2014 US tour. Comprised of 41 minutes of material by the newest incarnation of the band fronted by the line-up's formidable three drummer setup, Live At The Orpheum has been mixed from 24bit multi-track performances recorded at the band's two concerts at the Los Angeles venue. Featuring a mixture of new & old King Crimson material - some being performed live for the first time - the album makes an ideal recorded debut for the septet. For those who travelled from all over the world to see the US shows, it's an opportunity to relive the power, precision & sheer musicality of the concerts. For those who couldn't attend but wanted to, it's an opportunity to hear why the concerts generated such excitement. For any fan of the band, recent or long term, it's an essential purchase. With further concerts being planned for 2015, Live At The Orpheum is the perfect start for a new year of King Crimson music.
Factoids:
· Released on the 46th anniversary of King Crimson's formation in January 1969
· Live performances from the critically acclaimed, sold-out 2014 US tour.
· Available in two editions: CD/DVD-A & Limited edition vinyl
· 41 minutes of live material from the new seven piece King Crimson line-up
· CD/DVD-A edition features the material in standard & High Definition stereo · CD/DVD-A sells at a standard CD price & is packaged in a digi-pack
· Vinyl limited to a single pressing on 200-gram, super-heavyweight vinyl packaged in a gatefold sleeve
KC 2015: Gavin Harrison -- Pat Mastelotto -- Bill Rieflin -- Mel Collins -- Robert Fripp -- Jakko Jakszyk -- Tony Levin

Minimum Vital - Pavanes: Minimum Vital is the prog scene's flagship French group coming from the post seventies second wave, which managed to find an original identity. Having assimilated the legacy of the "ancients" (Yes, Magma ...) and thanks to an inspiration coming from European early music, the group has built an immediately identifiable musical universe. This always evolving musical adventure is dotted with many significant albums such as Sarabandes or Esprit d'Amor. Refocused since 2011 around the founding members (Jean Luc Payssan: guitars, percussion, voice; Thierry Payssan: keyboards, percussion, voice; Eric Rebeyrol: bass, trumpet), the trio began a new musical cycle, enriching its imaginary folklore with an opening marked toward Eastern influences. The new album Pavanes is today the beautiful illustration of this effort. Along the two CDs that make up this double album presented in a beautiful format, Pavanes presents a joyful musical journey, both rich and homogeneous, mixing folk and electric sonorities, traditional instruments (oud, saz,mandolins, percussion, brass), electric strings (bass, guitars) and electronics (vintage & digital keyboards). Synthesizing the style that is the hallmark of the group and taste for musical openings, Pavanes is the bright new milestone from Minimum Vital.
Henri Roger / Augustin Brousseloux - Shlouwarpch!: A new meeting via Facebook where a number of musicians decide to make albums by sending each other music tracks via the internet. Every musician adds, transforms the music, in his home studio until an album takes shape. Augustin Brousseloux is one of those very active musicians on social networks. Augustin Brousseloux is a young French musician (born in Reims 08.06.1999). He is a guitarist, saxophonist and mandolinist. He recorded with musicians like Noël Akchoté, Michael Park, Baptiste Boiron, Chris Silver T, Matthias Boss, Sherman, Charlie Rauh, Geometric Horsehair. [Roger says:] "He sent me a series of tracks based on 'ambient, contemporary minimalist with harsh-noise passages' guitar improvisations. I added sounds created with various electronic tools by transforming piano parts, guitar, percussion, voice, urban sounds. The title of the album is : Shlouwarpch!, onomatopoeia which gives a good idea of the sound path surprises that we offer."

Aldo Romano - Liberi Sumus - Live Au Triton: [Romano explains:] "A habit, almost a rite. It is the encounter with a musician who determines my desire for an album. Vincent Lê Quang, during a hearing jam, triggered this new adventure. This concert [at the] Triton, I wanted completely open, without partition, as a path without landmarks, only inspiration. The 'free jazz'? Yes, finally. I would say of total improvisation. Now often a forgotten art, which we practiced a lot with the indispensable Henri Texier, a different time [in] our journey. Liberi Sumu gives me the urge to explore, again, a form of music that requires a specific listening between musicians, and an open public risk-taking that implies. Liberi Sumus! We are free! Free at last! You too."
Peter Shallamandi - Ehad Project: Ehad is a concept album which saw the light at the crossroads of the world's civilisations and whose purpose is also to fit neatly in Humanity's legend that runs throughout history. A musical crusade through time and space. A spiritual quest of a human being taking an inner journey, which is revealed through the music, as the unconscious would unfold by means of a dream. It's on the road to Jerusalem that Ehad was conceived and for his first Opus, Peter Shallamandi has brought together a team of thirty singers and musicians, amongst them: the drummer Baptiste Brondy (Jean-Louis Aubert; The Silencers; Lo-Jo); Francis Moze - bass player and founder of Magma (Gong; Jacques Higelin); singers Yamina and Nadia Nid El Mourid (Lo-Jo); Pascal Vandenbulcke, flautist of Didier Squiban & Mukta. This lyrical music which incorporates tribal and instinctive elements, like a fountain of youth, brings us back to the sources of Genesis. Music from another time that shows both baroque and contemporary influences : Bach -- Stravinsky -- John Adams, as well as the progressive rock of Jon Anderson; Mike Oldfield (Incantations) and also Emerson Lake and Palmer, with here and there ancient or Neo-Medieval and mystical tones reminiscent of certain ambiances of Dead Can Dance. The cristalline celtic voice of Sarah Trutet adds an elf like quality. The music of Ehad (meaning "Oneness" in Hebrew) is a universal symbol which speaks to the soul. It brings a message of peace and reunification of all peoples as well as the sacred cultures of our Inner Humanity.
Pierre De Trégomain Quartet - Shelter: After My Cold Song, the Trégomain Stone Quartet released their second album Shelter (The Fabrica'Son Label / Muséa distribution): nine intimate compositions, enraged and bright at the intersection of pop, baroque music and the grand vortex that is jazz. Shelter is carried by the brilliant voice of Peter Trégomain, competition winner of Crest Jazz Vocal appearing in the Top "essential singers" in Jazz Magazine and inspired by the play of Arnaud Gransac on the piano, Benoist Raffin on drums and Bruno Schorp on bass. Three guests, representing the avant-garde of European music, come to contribute their unique color to this album: Alexandra Grimal on soprano saxophone, Karsten Hochapfel on cello, and Tam de Villiers on electric guitar. "This album is rooted in time. It does not lie flat above the complexity of the world, it resonates. But it radiates equally an intimacy that speaks to the world. I wanted with Shelter to give voice to this incessant exchange that feeds my man's journey and musician. I designed Shelter as an album-evident." - Peter Trégomain.

Ensemble Cronexos - Ensemble Cronexos: Cronexos: This portmanteau is derived from the Greek word Chronos, meaning time and the Latin word Nexus, the link. The combination of these five professional musicians ambition is nothing less than: to convey a message with a contemporary language of musical time. But a gateway in time is Cronexos the combination of distant musical and geographical backgrounds of its members: Argentine tango to music from the plains of Latin America, early music to contemporary music. Proof of this is in the concert with where 17th century Italian succeeds Latin American baroque repertoire of different backgrounds but one motto: stay true to the traits of the period while a lively thing.

Soft Rain / Stone From The Sky - Æmeth: Two groups - Soft Rain and Stone From The Sky - gathered together for a split CD at the intersection of Post-Rock and Stoner Rock. Soft Rain delivers a Post Ambient Tribal Zuq Apocalyptiq Origiasmiq. As for Stone From The Sky, it is located on the side of Stoner Rock, a sound that, although smoky, is psychedelic at all levels with a hairy riff in every corner. [Yes, the French original, translated by Google, yielded "hairy riffs"… -ed.]
Arcane Atlas - Constellation Plus: Arcane Atlass debut album Constellation Plus offers a unique twist to the genre of progressive rock. Meshing traditional rock with elements of multiple styles from jazz to pop, their first LP contains an outstanding variety of music and proves, without a doubt, that this new band has vision. With a raw power reminiscent of Rush, Atlas utilizes every note of Constellation Plus to produce something refreshingly different. Its soft, "spacey" opener no sooner begins than the melody breaks into "Static Perception," which is anything but gentle. Yet somehow it works, and every piece of the puzzle fits together perfectly. From the raucous "Canvas" to the acoustic "Once Tomorrow, Then Always," Atlas's exceptional writing lends the record diversity, depth, and texture. The rhythms are unpredictable, the lyrics innovative, and the melodies electrifying. In fact, Arcane Atlas will not merely impress you with their ingenuity, they will completely blow you away.
Doctor Gradus - Doctor Gradus: Doctor Gradus are a British jazz-rock quartet. Their eponymous debut album freely reworks the music of the French impressionists, moulding melodic, rhythmic and harmonic fragments of the original tunes into new works. The ten tracks here range from intimate solo pieces to cascading rhythmic fantasies, all blending strict form with improvisation. The band record live to capture the interaction and dynamism between the four players and this infectious collaborative energy permeates the entire album. Featuring Pete Whinnett on piano, Andy Philip on guitar, Rob Levy on bass and Dave Bryant on drums.
Quartiers Nord - Tous Au Piquet:- Quartiers Nord is the one and only rock band from Marseille! This line-up has been performing its immediately identifiable music since 1977, which is made of a tasty blend between Marseilles-poetry, good old rock'n' roll and oriental influences. It perfectly shows the varied musicians in the band, now about 10 of them. Among the founding members, we could find Philippe Troisi and Alain Chiarazzo, future musicians of Eclat. Quartiers Nord created a musical style that has since then inspired numerous bands such as Zebda from Toulouse. After about 10 albums, this band made its a comeback at their peak, with L'Internationale Massaliote (2003): this masterpiece includes almost only would-be hits, such as "Tombé Du Camion" and "Déferlante De Maquereaux En Quête De Girelles Au Large De Planier." As you can guess, humour is always present along the eleven tracks enlightened by the Mediterranean derision and accent, so typical of the area. Enter the world of Quartiers Nord, you won't regret it!
[Tous Au Piquet is a DVD that, from what I can tell (which isn't much yet), it's a live recording by the group -ed.]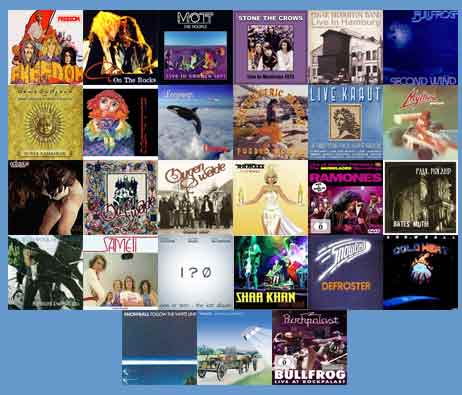 New from Sireen Records: Edgar Broughton Band - Live In Hamburg - The Fabrik Concert 1973, Dewa Budjana - Surya Namaskar, Bullfrog - Bullfrog, Second Wind and Live At Rockpalast (DVD), Cinema - Loopings, The Electric Family - Pueblo Woman, Freedom - Freedom, Ian Gillan - On The Rocks, Mott The Hoople - Live In Sweden 1971, Mythos - Grand Prix, Octopus - Hart Am Rand, Ougenweide - Wol Mich Der Stunde and Ougenweide - Ouwe War, Ramses - Firewall, The Ramones - Live At German Television - The Musikladen Recordings (DVD), Paul Roland - Bates Motel, Paul Roland and Midnight Rags - The Werewolf Of London, Sameti - Hungry For Love, Hendrik Schaper, Bertram Engel & Eddie McGrogan - One Or Zero - The Lost Album, Shaa Khan - Live 2009, Snowball - Defroster, Cold Heat, and Follow The White Line, Tribute - Breaking Barriers, Stone The Crows - Live In Montreux 1972, Various - Live Kraut - Live Rockexplosions From The Heyday Of Krautrock!
New from Red River Import: The Amazing Blondel - And A Few Faces, Arzachel - Arzachel, Bakerloo - Bakerloo, The Band - Carter Barron Amphitheater Washington DC, July 17 1976, Blossom Toes - IF Only For A Moment, Jackson Browne / David Lindley - Live At The Main Point, 15th August 1973, The Byrds - Avalon Ballroom San Francisco, November 2, 1968, Captain Beefheart & His Magic Band - Live 1966-1967, Devo - Orpheum Theater Boston, 17th July 1980, Fantasy - Paint A Picture, Hot Tuna - Live At Fillmore West, 3rd July 1971, Iron Butterfly - Live At The Galaxy, L.A. - July 1967, It's A Beautiful Day - Live At The Fillmore West 1st July 1971, Moby Grape - Live At Stony Brook University, NY - October 22nd 1968, The Mothers Of Invention - Wollman Rink Central Park NY, August 3rd 1968, Portabello Explosion - Part Two, The Ramones - WBUF Broadcast, Buffalo, NY, February 8th, 1979, R.E.M. - KCRW Studio Santa Monic 3rd April 1991, Bruce Springsteen - The Roxy Theater, West Hollywood, July 7, 1979 and Capitol Theater Passaic NJ, September 19, 1978, Steely Dan - Ellis Auditorium Memphis, April 30th 1974, Taj Mahal - Main Point Bryn Mawr, PA 14th March 1972, James Taylor - 13th May 1981 Atlanta Civic Hall, Them - Them and In Reality
[yeh, we know; not all are prog, prog-ish, or even anything resembling prog... but it ain't rap, or boy-band pop - discerning tastes ed.]
Also in Musea's update over the last few months - they've made U.K. Subs' Live - Violent State available (released through Combat Rock Records). They have kept at it for 40 years, and, the info sheet says, "the longest surviving punk band to have never split up." It is notable that the leader of the band, vocalist Charlie Harper is 70. Would we have expected "old punk rockers"? (Frankly, given the "rock" life style - be it punk or more mainstream - would we have expected the Stones to be still at it? Not so odd Clapton still performing and making music at 70… I was thinking this one day last month, in fact around the time of his birthday while listening to a Clapton track
Part two shortly...
[Source: Musea]