Radiant Records Announces New Morse Release; Guitar Giveaway
Date: Tuesday, June 03 @ 04:52:41 UTC
Topic: Album Release News


Greetings from all of us at Radiant Records! We have a great new release from Neal Morse for you and a FREE GIVEAWAY of one of Neal?s Guitars!!
We are now taking pre-orders for Neal's new 2 DVD set Sola Scriptura And Beyond. Be one of the first 400 people to pre-order this great new DVD (***and buy one other item from our store***) and you?ll be ELIGIBLE to win the Yamaha C-40 Nylon String Acoustic guitar Neal used on all his solo albums (including the solos on Testimony and Sola Scriptura). It comes with the beat up old guitar case in which Neal has been toting his steel string around Europe. Both the guitar and ALL PRE-ORDERED DVDS WILL BE SIGNED BY NEAL! (drawing will take place on June 24 and shipping of the guitar will occur shortly after).
[News item was released May 27, no indication on website that the 400 has be reached, so... even though the good don't last, the door is open wide... -ed.]
Here?s some info on this amazing DVD package:
Neal Morse - Sola Scriptura And Beyond 2 DVD Set. The definitive live Neal Morse Experience! 2 DVDs - 2 Concerts - 2 Legendary Albums - and more
Incredible performances of Neal's most acclaimed CDs: Question Mark and his most controversial: Sola Scriptura. And songs from: Spock's Beard, Transatlantic, One and Testimony.
Nearly 6 hours of breathtaking live Prog and more!
Shot with 6 cameras on an unforgettable evening, Neal and his band of incredible musicians pull off Neal?s most powerful and difficult music with flawless precision and heart. This is Neal Morse at the top of his game. A must have for all Neal Morse fans as well as anyone who just loves great music. Audio mixed by Jerry Guidroz and Neal Morse.
Disc One - Sola Scriptura And Beyond
Recorded May 26, 2007 The Boerderij, Zoetermeer, The Netherlands
1. The Creation
2. The Good Don't Last /Open Wide The Flood Gates
3. The Door
4. The Conflict / The Conclusion
5. Question Mark Medley
??- The Temple Of The Living God
??- Another World
??- The Outsider
??- 12
??- Entrance
??- Inside His Presence
??- The Temple Of The Living God
6. Testimedley
??- Overture No. 1
??- California Nights
??- Colder In The Sun
??- Somber Days
??- Sing It High
??- The Storm Before The Calm
??- I Am Willing
??- Oh, To Feel Him
??-Rejoice
??- God's Theme
7. We All Need Some Light
8. Wind At My Back
Disc Two - Bonus Disc
Sola Scriptura Tour ? Behind The Scenes
Bridge Across Forever (acoustic version)
Question Mark Live: Recorded at The Columbia Club, Berlin July 14, 2006
1. Sweet Elation
2. In The Fire
3. Solid As The Sun
4. The Glory Of The Lord
5. Outside Looking In
6. Help Me
7. King Jesus
8. Reunion
9. Encore Medley:
??- We All Need Some Light
??- Open Wide The Flood Gates
??- Open The Gates Part 2
??- Solitary Soul
??- Wind at My Back
Release date is June 24. You will get it on or before the release date as we already have them in stock!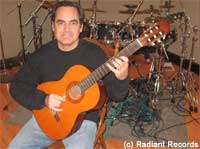 Neal with the guitar being offered in the giveaway
[Source: Radiant Records; photo: courtesy]