John Wetton, Napoleon Murphy Brook To Guide Paul Green School Of Rock All-Stars
Date: Tuesday, February 17 @ 01:31:14 UTC
Topic: Band News (tours, comings/goings, etc)


John Wetton, New Grammy? Winner Napoleon Murphy Brock To Guide Paul Green School Of Rock All-Stars As "Guest Professors" On Pair Of Northeast Tours -- Asia And Zappa Band Members Return To Usher Music Education Revolution Into Its 2nd Decade -- Brock to lead All-Stars Feb. 14-22 performing music of Frank Zappa; Wetton to follow March 3-8 with music of Asia, King Crimson and U.K.
John Wetton of Asia and newly minted GRAMMY? Award winner Napoleon Murphy Brock of the Frank Zappa band are once again pledging their allegiance to the Paul Green School of Rock All-Stars as "Guest Professors" on a pair of late winter U.S. tours.
Seizing the heat of the moment, Wetton and Brock will kick off the "Guest Professor Series 2009" by helping to take the Paul Green School of Rock into its second decade revolutionizing music education across the nation. The School of Rock All-Stars are comprised of the best and brightest students from 45 schools around the country, an incredibly long distance since Paul Green founded the first school in his Philadelphia garage in 1998.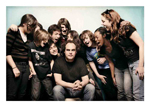 "Paul Green offers an extensive curriculum ? teaching youngsters the rock 'n' roll canon as well as the fundamentals of power chords and budda-budda bass lines." - New York Times

"The country's preeminent rock music school for children ages 9 to 17." - Washington Post
Since his last tour with the All-Stars in 2006, Wetton has reformed Asia and toured the world several times with the reunited progressive rock supergroup. The former King Crimson and U.K. bassist-vocalist is finding time between overseas winter tours with Asia and Icon (featuring Asia?s Geoff Downes) to lead the School of Rock All-Stars in the music of Asia, King Crimson and U.K. on a weeklong Northeast tour launching Tuesday, March 3 in Downingtown, PA.
Brock launches the ?Guest Professor Series 2009? at the conclusion of a week in which he won the Best Rock Instrumental Performance GRAMMY? Award with Zappa Plays Zappa for Peaches En Regalia (edging out David Gilmour, Metallica, Nine Inch Nails and Rush.). The sax-playing vocalist's latest stint with the All-Stars begins Saturday, Feb. 14, hosting a seminar at the School of Rock's Philadelphia headquarters, followed by a week of all-Zappa shows at clubs throughout the Northeast.
Over the past decade, Green's dream has become a national phenomenon ? a vision that has since produced an explosion of schools nationwide and a number of future rock stars, many of whom have traveled quite far along the trail he blazed when he took music instruction out of the classroom and onto the live rock stage by founding the original and premier performance-based rock music school in the country for kids 8-17 in 1998.
"Even after all this time, all our expansion, and everything we have achieved," says Green, "the best way to teach kids to play music remains the same: load a bunch of them on a bus and take them out on the road to PLAY music."
The Paul Green School of Rock is well on its way to producing the next generation of rock stars. Among its alumni, drummer Eric Slick became a sought after touring drummer immediately upon graduation, playing shows with Zappa Alumni band Project/Object, Steve Vai bandleader Mike Keneally, and various Ween side projects. Together with his bassist sister, Julie Slick, they currently tour with guitar legend Adrian Belew (David Bowie, King Crimson) as the Adrian Belew Power Trio. Drummer Branden King, is not only Philly legend Chuck Treece?s go-to drummer, but also played with three bands at last year?s SXSW, and has done two tours of Europe with various projects. Slide guitar phenom Sarah Zimmerman recently signed a management deal with Tor Hyams (Joan Osborne, Perry Farrell, Deborah Harry) and is working with top writers and producers on her debut album. ShredmasterCJ Tywoniak, star of Rock School, is being courted by record labels eager to release his debut EP. He recently sat in with Steve Miller, and dazzled all of those in attendence. Many former School of Rock students also are attending top music colleges such as Berklee and the University of Miami, as well as working their own bands with dreams of stardom.
"I put these shows together with real music fans in mind," says Green. "Any true rock fan who comes to our show will be delighted by the deep cuts these kids take on, the difficult material they tackle, and the love and enthusiasm they bring to the stage."
The Paul Green School Of Rock All-Stars Guest Professor Series 2009:
with Special Guest Napoleon Murphy Brock:
Sat., Feb. 14 -- School of Rock Headquarters, Philadelphia, PA
Tue., Feb. 17 -- Downington School of Rock, Downingtown, PA
Wed., Feb. 18 -- McGuinn's Place, Trenton, NJ
Fri., Feb. 20 -- The Garage, Wilmington, DE
Sat., Feb. 21 -- The New Barbary, Philadelphia, PA
Sun., Feb. 22 -- Sullivan Hall, New York, NY

with Special Guest John Wetton:
Tue., March 3 -- Downingtown School of Rock, Downingtown, PA
Thu., March 5 -- B.B. King's, New York, NY
Fri., March 6 -- Showcase Live, Foxboro, MA
Sat., March 7 -- Bergen County School of Rock, South Hackensack, NJ
Sun., March 8 -- World Caf? Live, Philadelphia, PA
About The Paul Green School of Rock
The Paul Green School of Rock is the original and premier performance-based rock music school in the country for kids 7-18. Founded on Green?s original program of weekly, individualized instruction sessions augmented by rigorous group rehearsals, the Paul Green School of Rock effectively motivates students to practice?driven by frequent performances where they discover that hard work leads directly to applause, the most beautiful music of all. In 2009, the 45 School of Rock branches around the country will play 1500 shows in front of 400,000 people, at established venues including The Whiskey, BB King?s and Carnegie Hall and at festivals such as Lollapalooza, Austin City Limits, Zappanale (Germany) and the third annual SORFest. The School?s All-Stars have performed with Alice Cooper, Eddie Vedder, Les Paul, Slash and Perry Farrell, among others, and have toured with Jon Anderson of Yes and the Butthole Surfers. Founded in 1998, the Paul Green School of Rock Music was the subject of the documentary Rock School, which regularly airs on A&E since its 2005 debut at Sundance. The School also served as the apparent inspiration for the Jack Black hit comedy, School of Rock, soon to spawn a sequel Currently in a period of rapid expansion, the Paul Green School of Rock (http://www.schoolofrock.com) plans to open in more than 60 locations by end of 2009 and 400 before expansion is finished. The Paul Green School of Rock Music Inc has recently launched a new division: School of Rock Media. With Paul Green at the helm, School of Rock Media will oversee all media projects for PGSORM, currently including a series of instructional books, a TV series, a major recording project, the second annual national music festival at historic Penn?s Landing in Philadelphia co-produced with Live Nation, and an artist development division.
[Source: Randex Communications]