Get Yourself A Dose Of The Lidocaine
Date: Friday, June 04 @ 00:58:55 UTC
Topic: Album Release News



The Lidocaine is a Finnish rock/metal/progressive band coming from the city of Helsinki. Their debut album The Voices And Noises of Kiling Koling was released in summer 2009 and it has got some very good reviews in Finnish magazines.The album was recorded and mixed by Hape Haavikko between February and December 2008 in Fakiiriaudio studio in Vantaa, Finland.
After the final mix, the band started to look for a record company, but finally decided to publish it themselves. The album has ten songs,5 made by Anthony [Rausku - Vocals, Guitar] and 5 made by Eroz [Vocals, Bass] and they both sing their own songs. And this thing, that the band has two lead singers, has turned out to be an interesting thing for listeners and it also gives lots of possibilities for the vocal arrangements.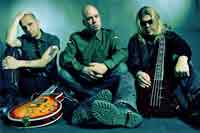 There is a videodocument about the making of the album on YouTube: www.youtube.com/thelidocaine and also studio blog: thelidocaine.ajatukseni.net/
Right now band has started reheasals for the second album and gigs coming in summer 2010. The Lidocaine was founded in December of 2007.
Review:
"All the songs here are very solid and well performed and given the right exposure I believe The Lidocaine could do quite well internationally, if not quite setting the world on fire.

Stand out tracks for me include 'All That You Ever Were,' with its Dio-era Rainbowesqe mid-section, 'Dig Down Your Cave' and 'Enjoy The Ride.'

The Lidocaine, a good band - The Voices And Noises of Kiling Koling, a good and interesting album" - Glitzine, UK
Band Line Up:

Anthony Rausku - Vocals, Guitar
Eroz - Vocals, Bass
Janne Hakuli - Drums
Tracklisting:
1. My Living Is Done
2. All That You Ever Were
3. Never Break
4. Dig Down Your Cave
5. Back to Sleep
6. Sunshine
7. Left Overs
8. Enjoy The Ride
9. Words That Smell
10. Call It Heavenly
[Source: TSM Productions (except the cheesy headline)]