Pain Of Salvation Announce European Tour Dates
Date: Saturday, July 24 @ 18:00:00 UTC
Topic: Band News (tours, comings/goings, etc)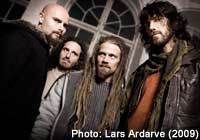 The Swedish innovative and nerver resting band Pain Of Salvation are now announcing the first tour dates of the successfully released album Road Salt One which scored overwhelming international press including cover stories like in Fuzz Mag (Sweden), Norway Rock Mag, etc.
The band comments: "Although time hardly permits, we have decided to take Road Salt One where it truly belongs; out on the road. The first stretch of this dusty and grainy road is taking shape right now, and will mainly lead us through an October Europe. As usual, with Pain of Salvation it is all about redefining and reinventing, and our shows and tours have lived lives of their own and shapeshifted just as our albums. This tour will be no exception in that respect. So whatever you do, don?t let it be the one your friend went to see and never stops talking about.?
[Funny they should say that, because I just was just thinking that I still regret having to leave early from ProgPower I way back in 2000 and missing seeing Pain of Salvation - ironically, because I was in physical pain and seeking salvation -ed.]
The first batch of dates on the Road Salt tour:
27.08.2010 PL ? Katowice @ Metal Hammer Festival
28.08.2010 SE ? Bor?s @ Close to Home Festival
01.10.2010 FIN ? Oulu @ Teatria, Metalheim Festival
02.10.2010 FIN ? Helsinki @ Nosturi, Metalheim Festival
07.10.2010 SE ? Eskilstuna @ St?lfors, V?rldens Barn-Galan

Pain Of Savation - presented by Rock Hard, Eclipsed and Dragon Productions:

15.10.2010 DE ? Hamburg @ Markthalle
16.10.2010 DE ? Bochum @ Zeche
17.10.2010 NL ? Uden @ De Pul
18.10.2010 DE ? Aschaffenburg @ Colos-Saal
20.10.2010 FR ? Paris @ La Scene Bastille
21.10.2010 CH ? Pratteln @ Z7
22.10.2010 IT ? Milan @ Magazzini
24.10.2010 HU ? Budapest @ Ship A38
25.10.2010 SVK ? Bratislava @ Majestic
26.10.2010 CZ ? Prague @ Futurum
28.10.2010 NL ? Zoetermeer @ De Boerderij
29.10.2010 BE ? Louvain-La-Neuve @ La ferme du Biereau
30.10.2010 DE ? Andernach @ JUZ Live Club
More shows will be added in the coming month.
Daniel Gildenlow will also be joining Transatlantic on stage again for Classic Rock Magazine?s High Voltage Festival in London. The all star Prog outfit featuring members of Dream Theater, Marillion, The Flower Kings and former Spock?s Beard frontman, Neal Morse, will headline the festival?s Prog Stage on Saturday, July 24th [They take the stage at 8pm in the UK (or 12pm Pacific/3pm Eastern... about an hour from this posting time... -ed.]
Classic Rock Prog Magazine UK states ?The angry Led Zeppy riffing of 'Linoleum' and the repetitive and rousing rabble of 'Curiosity' add a dimension that was lacking until this point (...). We can surely be satisfied with a record that simply sounds wonderfully complete and content in itself? (three page feature and highlighted box review).
Pain Of Salvation - Road Salt One (InsideOut Music/Century Media); US release date June 6, 2010. Available in standard jewelcase edition, limited edition digipack (includes bonus track and special extended version), gatefold LP, and as a digital download.
Official video Pain Of Salvation LINOLEUM
[Source: Screaming Crow PR; Photo: Lars Ardarve (2009)]