Creation's End Schedules CD Release Show
Date: Sunday, November 07 @ 21:00:00 UTC
Topic: Band News (tours, comings/goings, etc)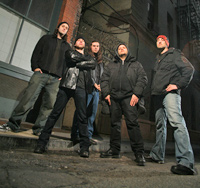 Creation's End, the new power/progressive metal band featuring vocalist Mike DiMeo (Riot, Masterplan), guitarists Rudy Albert (Zandelle) and Marco Sfogli (James LaBrie), drummer Dario Rodriguez, and bassist Joey Bones, will perform live for the first time at a newly scheduled record-release show on Friday, December 3 at New York City's thunderous rock and roll hideout Ace Of Clubs. Also on the bill are The MP Project, Monstar Zero and Clearview.
Creation's End will release its debut album, A New Beginning, on November 9 via Sensory Records.

The CD was recorded between May 2009 and January 2010 at The Ninth Ring studios in New York City with producer John Macaluso (James LaBrie, Fool's Game, ARK, TNT, Yngwie Malmsteen), who also played guest keyboards on the album. The effort was mixed by Neil Kernon (Nevermore, Deicide, Cannibal Corpse, Nile) and was mastered by Alan Douches at West West Side Music (Sepultura, Suffocation, Unearth) in New Windsor, New York. The cover artwork was created by Bj?rn Goosses of Killustrations.
A New Beginning track listing:
01. Of Shadow And Flame
02. World Holocaust
03. Hollow
04. Dissociate
05. Still Life
06. Forsaken
07. Relic
08. Creation's End
All songs written by Rudy Albert and Dario Rodriguez with Creation's End and John Macaluso. Additional lyrics by Mike Dimeo and John Macaluso.
Recording lineup:
Mike DiMeo - Vocals
Rudy Albert - Guitars/Keyboards
Marco Sfogli - Guitars
Joe Black - Bass
Dario Rodriguez - Drums
John Macaluso - Additional Keyboards
According to a press release, "Creation's End unites strong melodies with dark and brutally heavy power metal as well as a slight touch of prog."
For the CD
[CE will be playing at ProgPower USA in September 2011]
[Source: Blabbermouth.net, Creation's End website]