Glenn Hughes' Long-Awaited Autobiography To Arrive Next Week
Date: Monday, May 16 @ 12:00:00 UTC
Topic: Band News (tours, comings/goings, etc)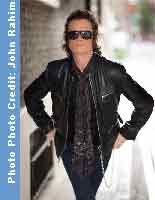 Legendary singer and bassist Glenn Hughes (Deep Purple, Black Sabbath, Black Country Communion) released his long-awaited autobiography, Deep Purple And Beyond: Scenes From The Life Of A Rock Star, on May 12 via Foruli Publications. The book, co-written with Joel McIver and featuring an introduction by Metallica's Lars Ulrich, will appear in a luxury first edition complete with rare photos and an exclusive 10-inch vinyl EP featuring the following all-new recordings:

* "What Is A Woman's Role?" (Trapeze, written by Hughes)
* "Holy Man" (Deep Purple, written by Hughes, David Coverdale, Jon Lord)
* "Dying To Live" (brand new acoustic Glenn Hughes track)
A launch event for the book on May 12 in London, England featured a solo acoustic set by Glenn, a preview of the book packages, and the opportunity to meet Glenn, co-author Joel McIver and the team at Foruli.
Glenn's set consisted of the following five songs:
01. Coast To Coast
02. Holy Man
03. I Found A Woman
04. Too Late To Save The World
05. Cold
Hughes previously said about the book, "My autobiography is going to be a literary event. I've been working on this book for the last three years and you've never read anything like it. It's the true story of the Voice Of Rock, from my childhood via my career in Trapeze and Deep Purple to my addiction and recovery. I'm now on top of the world as a solo artist and after so many years of sobriety, I can hardly believe that I survived. I spent a million dollars on cocaine and, when you've read this book, you won't believe it either."
Deep Purple And Beyond: Scenes From The Life Of A Rock Star features contributions from Hughes' friend and comrade in Deep Purple David Coverdale, his lifelong musical collaborator Tony Iommi of Black Sabbath and a host of others, including Angie Bowie, John Varvatos and the members of The KLF (with whom Hughes scored a global hit in 1991).
Speaking to FaceCulture about his autobiography (see video here, Hughes said, "In the '70s and '80s, I was a very notorious drug addict, I was a very famous cocaine addict. I don't say that to be arrogant, but I was one of the first rock stars to become, 'Oh, Glenn Hughes, he's a cocaine addict.'
"There are things that I never told anybody until the book. Let's just say that I disappeared in the '90s for awhile and nobody knew where I was and I didn't tell anybody. People thought I was actually on a boat in the Mediterranean and I wasn't -- I was somewhere else. I was basically being another person under another name being completely isolated and it almost killed me.
"I wanted to experiment. I wanted to be alone and I wanted to live under a different name and I wanted to travel alone with no one [knowing] where I was. I only disappeared five or six times in three years… Let's just say that I was on my journey.
"When I got sober a long time ago, and let's just say that I wanted to experiment with other drugs and other things and other people and I wanted to be anonymous. I wanted to go under another name and I wanted to travel. I wanted to do it without [being] in the public eye in my hometown in the country where I live; I wanted to disappear and there is no greater city in the world to go dark than Amsterdam. If you want weird, it's here. And the fact of the matter is, it got so *****ing weird that it scared the shit out of me. Let's just say that I went to the edge of the cliff of insanity.
"I had this clarity moment where I said, 'Well, I can either jump over here and go insane…' == 'cause I was really, really going insane -- and I just turned back and became the man that I am now."
The publisher, Foruli Publications, is a globally-recognized spe*****t in collectable, high-quality books.
[Source: Blabbermouth.net]