Alberto Rigoni Gets 'Free' With Porcupine Tree Drummer Gavin Harrison
Date: Wednesday, May 25 @ 14:00:00 UTC
Topic: Band News (tours, comings/goings, etc)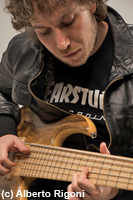 "Free," the first track of Alberto Rigoni's new album Rebirth (out on May 23rd from Nightmare Records), is now available in full streaming at the following link: www.reverbnation.com/play_now/song_8628040
The song features also boosting contributions by drummer Gavin Harrison (Porcupine Tree), guitar player Tommy Ermolli (TwinSpirits) and keyboard player Federico Solazzo.

Rigoni comments about hooking up with Harrison for "Free":
"Back in January 2009, I started composing a new solo album. The goal was to invite some of my favorite musicians to join me on some of the songs. One of them was Gavin Harrison who most people know from Porcupine Tree and King Crimson. I was not sure he was interested, but I contacted him anyway. He told me that if he liked the feel of the song, he would do it.
"At that point I thought I might have a chance [laughter]. A couple of hours after reading his email, I took the bass in my hand and started composing the tune called 'Free.' The day after, I met guitarist Tommy Ermolli (TwinSpirits), recorded some tracks, and then I sent the tune to Gavin. I didn't track any drum loops and I left all the parts up to him. Some days later he sent me back the tracks and they were amazing! I couldn't have asked for anything better -- I was thrilled."
More info about the album at: www.albertorigoni.net/alberto_rigoni_rebirth.php
[Source: AR Press Office]