King's X Announce Spring Tour To Support CD/DVD Package And New Studio CD
Date: Sunday, January 15 @ 19:00:00 UTC
Topic: Band News (tours, comings/goings, etc)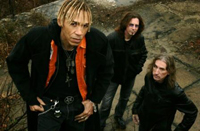 Legendary rockers King's X will return to the North American tour circuit this spring for their first West Coast run in three years. Aptly named the "First Church of Rock and Roll" tour, King's X will spread their progressive fusion of hard rock, funk and soul on a 4-week trek starting March 28 in Austin, TX and extending through April 21 in Denver, CO.
It will be the first time the band - bassist/vocalist dUg Pinnick, guitarist/vocalist Ty Tabor and drummer/vocalist Jerry Gaskill - have played most of these cities since 2009, and will mark their first West Coast dates in support of Live Love In London, the live CD/DVD follow-up to latest studio release XV.


Live Love In London is the most expansive King's X live offering to date, a career-encompassing package featuring "It's Love," "Over My Head," "Black Flag," "Lost In Germany" and more. Recorded live January 22, 2009 at the Electric Ballroom, the 3-disc CD/DVD package (also available as a 2-CD set) showcases the amazing live performances that King's X have been delivering to fans around the world for the past 25 years. To order your copy of Live Love In London,, click here.
Check the dates below to see when King's X will be coming to a city near you:
King's X "First Church of Rock and Roll" Tour
3/28/12 -- Dirty Dog Bar -- Austin, TX
3/29/12 -- Warehouse Live Studio -- Houston, TX
3/30/12 -- Trees -- Dallas, TX
4/1/12 -- House of Rock -- Corpus Christi, TX
4/3/12 -- The Rock -- Tucson, AZ
4/5/12 -- Key Club -- West Hollywood, CA
4/6/12 -- Brick by Brick -- San Diego, CA
4/7/12 -- The Coach House -- San Juan, CA 4/10/12 -- Don Quixote's -- Felton, CA 4/12/12 -- Cargo -- Reno, NV
4/13/12 -- The Boardwalk -- Orangevale, CA
4/14/12 -- Pound West Oakland -- Oakland, CA
4/17/12 -- Hawthorne Theatre -- Portland, OR
4/18/12 -- El Corazon -- Seattle, WA
4/21/12 -- Herman's Hideaway -- Denver, CO
[Source: InsideOut Music