Black Sabbath Guitarist Tony Iommi Diagnosed With Lymphoma
Date: Monday, January 16 @ 18:00:00 UTC
Topic: Band News (tours, comings/goings, etc)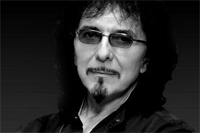 Judas Priest, Disturbed, Lamb Of God, Arch Enemy Members Send Best Wishes
[In a related item to the Dio item (well, the two did play together in Sabbath...] [l]egendary Black Sabbath guitarist Tony Iommi has been diagnosed with the early stages of lymphoma, a cancer of the lymphocytes, a type of cell that forms part of the immune system.
Iommi, 63, is currently working with his doctors to establish the best treatment plan and remains upbeat and determined to make a full and successful recovery.
This comes as Black Sabbath -- Ozzy Osbourne (vocals), Tony Iommi (guitar), Geezer Butler (bass) and Bill Ward (drums) -- are writing and recording their first album in 33 years in Los Angeles (still set for release this fall) with producer Rick Rubin. They will now go to the U.K. to continue to work with Tony.

Iommi's Black Sabbath and Heavan & Hell bandmate, legendary heavy metal singer Ronnie James Dio, died of stomach cancer on May 16, 2010 at the age of 67.
In a June 2010 interview, Iommi stated about his former bandmate, "I was talking to Ronnie [a few days before he died], and he said, 'I've gotta have this new chemo, but I think it's working.' And that was the real big shock of it, because within a week of that, he had passed away. So it was a big shock for all of us, because we built ourselves up to [have him beat the disease] and, of course, we didn't expect to lose."
According to the Leukemia & Lymphoma Society, lymphoma is the name for many different types of cancer that arise in the lymphocytes (immune cells). Treatment might involve chemotherapy and in some cases radiotherapy and/or bone marrow transplantation, and can be curable depending on the histology, type, and stage of the disease.
There are three types of lymphocytes: B lymphocytes (B cells), T lymphocytes (T cells) and natural killer (NK) cells. B lymphocytes make antibodies to fight infection; T lymphocytes have many functions, including helping B lymphocytes make the antibodies that fight infection; and natural killer cells attack cancer cells and viruses. Lymphoma may arise in any of these types of lymphocytes. In general, B-cell lymphomas are more common than T-cell lymphomas; however, in the skin, T-cell lymphomas are the most common type.
About 20 percent of the white cells in the blood are lymphocytes. Most lymphocytes are found in the lymphatic system, the major part of the body's immune system. The lymphatic system consists of a network of organs, including the spleen, the lymph nodes (small bean-shaped structures located throughout the body), the lymphatic vessels and areas in the gastrointestinal tract.
Lymphoma is divided into two major categories: Hodgkin lymphoma (HL) and non-Hodgkin lymphoma (NHL). Cutaneous T-cell lymphomas (CTCLs), cancers of the T lymphocytes, constitute a rare group of NHLs that arise primarily in the skin and have various signs and symptoms, outcomes and treatment considerations.
A number of hard rock and heavy metal musicians have taken to Twitter to offer best wishes to Tony Iommi:
Anthrax (band): "This really does suck. GET WELL SOON TONY!"

Slash (Velvet Revolver, Guns N' Roses): "Best wishes for a full recovery to Tony Iommi."

Robb Rivera (Nonpoint): "Just when i was happy to announce that I had finished his book last night, today I read this sad story about metal."

David Draiman (Disturbed): "Everyone please send their prayers/good vibes/best wishes to Tony Iommi for a speedy recovery; he has been diagnosed [with] lymphoma."

Sebastian Bach (Skid Row): "All hail the mighty Tony Iommi. & ***** YOU, Cancer."

Tommy Clufetos (Ozzy Osbourne, Rob Zombie, Alice Cooper): "All my positive vibes to Tony Iommi of [Black Sabbath] for a healthy speedy recovery... A true rock legend!!"

Randy Blythe (Lamb Of God): "I absolutely insist that every single follower of mine, religious or not, send a prayer up for Tony Iommi. He has been diagnosed with lyphoma. It's in its early stages — Sabbath is writing a new record, and they are continuing to. Iommi is the reason heavy metal exists. Pray for him. You pray to Crom, Odin, yourself -- don't care who. Just send up some positive vibes for Tony Iommi. This is terrible news for metal. I've toured with Iommi a coupla times. He is a gentleman and a living legend. Hopefully since it's in early stages they can beat it pretty easily. But Iommi's not a young man, so think good thoughts! It is no secret that I have donated both my time, energy, facial hair, and a fair amount of my money to cancer research. I've walked the walk (literally) as well as talked the talk. However, there's nothing wrong with positive vibes."

Zakk Wylde (Black Label Society, Ozzy): "Big BL get well wishes out to Lord Iommi!!!"

Glenn Hughes (Deep Purple, Black Sabbath, BCC): "Prayers please for my brother Tony Iommi... We all pray for a full, speedy recover from cancer.... Much love…"

Angela Gossow (Arch Enemy): "Very, very sad to hear about Tony Iommi's cancer diagnosis. FIGHT! You never know what the future holds for you. Live and love every day!"

Exhorder: "Get well soon Tony Iommi. Sad news."

Frank Bello (Anthrax): "Get well soon Tony!!"

Richie Faulkner (Judas Priest): "My thoughts go out to Tony Iommi and I wish him a fast and full recovery."

Gus G. (Ozzy, Firewind): "I'm in shock to hear the news about Tony Iommi. Get well soon 'Iron Man'!! Your biggest fan."

Michael Amott (Arch Enemy, Carcass): "Here's hoping for a solid and speedy recovery for my guitar hero Tony Iommi!"

Niji Entertainment Group (the record label Wendy Dio and her late husband Ronnie James Dio formed before his untimely passing): "Our thoughts, love and prayers are with Tony Iommi and his family! Please say a prayer!"
[Source: Blabbermouth.net]