Nightwish To Release 'The Crow, The Owl And The Dove' Single
Date: Tuesday, January 24 @ 23:00:00 UTC
Topic: Album Release News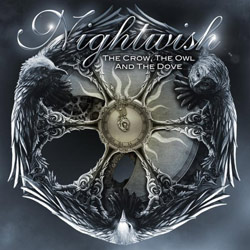 "The Crow, The Owl And The Dove," the second single from Imaginaerum, the new album from Finnish/Swedish symphonic metallers Nightwish, will be released in Europe on March 2 via Nuclear Blast Records. Along with the title track, the single will include a previously unreleased song called "The Heart Asks Pleasure First" (theme from the movie The Piano). The cut will be available in two different versions, including an instrumental one.

"The Crow, The Owl And The Dove" is featured in three versions: the radio edit, album version and an instrumental.
You can order the single on CD, or as a vinyl in clear or blue color, at this location.
Imaginaerum has been certified gold in Germany for sales in excess of 100,000 copies. The CD also entered the official chart in Finland at position No. 1 and has already been certifield triple platinum in the country after shifting more than 60,000 units.
[Note: The International Federation of the Phonographic Industry (IFPI) in Finland has revised the sales requirements for albums to reach platinum status in the country from the pre-2010 level of 30,000 to the current 20,000.]
[Source: Blabbermouth.net]