Flying Colors Announces Tour Documentary "First Flight"
Date: Monday, June 24 @ 15:00:00 UTC
Topic: Album Release News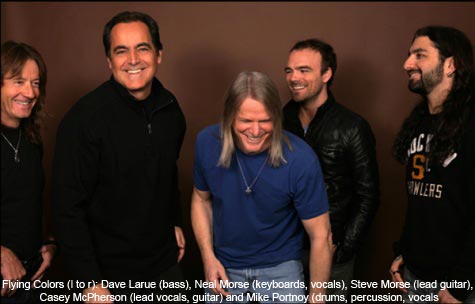 Flying Colors -- the spectacular new virtuoso prog/pop/metal rock band formed by drummer Mike Portnoy (ex-Dream Theater) and guitarist Steve Morse (Deep Purple) -- is working on a concert Blu-ray and DVD from its 2012 tour, to be released later in the year. The set will include the Flying Colors tour documentary, "First Flight," which is described in a press release as follows: "Backstage, on the bus, and in extended interviews, discover the seedy and sordid underside to the prog's most dangerous band. And Flying Colors. While you're there, check out pro audio/video footage from their first-ever show in L.A., their first in Europe, and their bittersweet curtain call in London. And observe the surreal cavalcade of lost innocence when one crew member does the unforgivable on the tour bus."

Flying Colors' first-ever European tour kicked off on September 9, 2012 in Hamburg, Germany.
The self-titled debut album from Flying Colors sold 6,300 copies in the United States in its first week of release to land at position No. 81 on The Billboard 200 chart.
In addition to Portnoy and Steve Morse, Flying Colors features Dave LaRue (bass), Neal Morse (keyboards, vocals), Casey McPherson (lead vocals, guitar).
"I think if most people looked at this band on piece of paper, they would think that it would be very progressive and instrumentally based music, but I think once we started playing together, we got taken into all new directions," Portnoy told Audio Ink Radio. "I think a lot of that had to do with Casey, because Casey comes from a more modern rock and alternative rock background, so I think that really helped take the entire band in new directions."
He added, "The diversity element is pretty crazy. It ranges from poppy classic rock sounds like The Beatles and Queen all the way to modern rock and alternative bands like Radiohead, Muse and Coldplay, and everything in-between. There's some prog stuff like Yes thrown in, as well, and then there are moments that are like the Red Hot Chili Peppers and Foo Fighters. So, it really runs the gamut from track to track."
The formation of Flying Colors began with a simple idea: virtuoso musicians and a pop singer joining together to make new-fashioned music the old-fashioned way. Refreshing, classic, old and new, the recordings are saturated with the many styles, tones and hues of the players who in becoming a band have delivered a unique fusion of vintage craftsmanship and contemporary music.
In 2008, executive producer Bill Evans brought the idea to the world-renowned musicians and producer Peter Collins. Intrigued by the idea and the prospect of working together, the four musicians signed on to form a band and record a first album.
Steve Morse and Dave LaRue have developed magical music chemistry over the years that began early in their careers as partners in Dixie Dregs. In 1995, Morse subsequently became a member of Deep Purple, while LaRue's ongoing musical adventures include Joe Satriani, John Petrucci, Jordan Rudess, Steve Vai, and the aforementioned Portnoy.
Multi-instrumentalist, composer and singer Neal Morse is one of the leading figures in progressive rock, whose notoriety follows his co-founding of the seminal band, Spock's Beard in 1995, recordings as a solo artist, and contributions to the super-group Transatlantic.
Mike Portnoy is one of the most popular and respected drummers in both metal and rock, and an accomplished writer and producer. He is the recipient of numerous industry accolades, including 26 Modern Drummer awards, Revolver magazine's Golden God award for "Best Drummer" and Drum magazine's "Drummer Of The Year." He rose to prominence as the leader, drummer, producer, and co-writer for metal/prog juggernaut Dream Theater, before moving on in 2010. That same year, he worked on Avenged Sevenfold's #1 album Nightmare and their subsequent tour.
It was Portnoy who recommended Alpha Rev's emotive singer Casey McPherson as a contender to join Flying Colors. McPherson, whose 2010 Hollywood/Disney album New Morning debuted in the Top 5 on two Billboard charts, enjoyed major success at radio with multiple hits. The track "New Morning" spent 17 weeks in the Top 10 on Triple A Radio, and enjoyed a run on VH1's Top 20 Countdown for months. Steve Morse offers, "Casey was a glorious find, because he could make anything sound fantastic, and is a multitalented like the others."
Flying Colors convened for just nine days in early 2011, and composed and recorded this album during a short and intense session.
In March the band posted to their website: "Most of you have heard talk of a second Flying Colors studio album. We can now confirm that this work has begun! There is no release date or other information at this time. Nor will there be for quite a while, so please don't ask... we're just getting started. We'd like to thank our label, Mascot Label Group, for continuing with and supporting us in this epic journey. And of course, our fans—you guys are amazing!"
[Source: Blabbermouth.net, Flying Colors website]