Musea Releases For The First Quarter (Or So) Of 2015 (Part 2)
Date: Sunday, April 26 @ 20:00:00 UTC
Topic: Album Release News


Part two begins this way, with something from the "new music" genre:

Acid Mothers Temple et Rosina De Peira -Live In Tolosa: Limited edition digisleeve CD. Acid Mothers Temple are a unique and distinctively sounding Japanese band. Acid Mothers Temple meets Rosina De Peira, one of the greatest female singer of Occitan traditional music. The music combines traditional music, acid folk and psychedelia. Includes Acid Mothers Temple standards and classics: "La Novia," "Pink Lady Lemonade," including "OM Riff," "La Le Lo," and "Cometary Orbital Drive." Recorded live in Toulouse (Occitania).



Archimusic - Mutemps - Fantaisie Numérique: Led by saxophone player Jean-Rémi Guedon, Archimusic is a band that performs new musics, somewhere between avant-garde jazz and contemporary musics. Treize Arpents De Malheur (2001) was produced thanks to the help of the Musical Creation Fund and the French ministry of culture. The album is regularly embroided with the recitative tracks by Laurence Masliah, who reads texts written by Jean ARP, as well as extracts from his book Jours Effeuillés. Literature, lyric song, dance, theater, many aesthetics and many artists share the stage with Archimusic. Since 2007, with the show "Terres Arc-En-Ciel," performed in Africa and France, a spiral of creation takes place where generations of past guests participate in this achievement ... Built from extracts from these concerts and made in the studio, the album is the mirror of those meetings. It is a route into the loops of otherness, the balafon traveler guide your steps through the tracks on the disc, it leads you to stories tales, gleaned Montreuil (France), Pointe Noire (Congo), Coutances (France) and Yaoundé (Cameroon).
Mutemps - Fantaisie Numérique is the latest release.

Blue Shift - Levels Of Undo: Those of you that remember Blue Shift's debut CD entitled Not The Future I Ordered [which we reviewed here -ed.] will be delighted to know that the band has released their second CD Levels Of Undo. High energy and intricate progressive rock abounds, culminating in the epic title track that weighs in at over 20 minutes. Anyone who has a deep love for the classic Prog bands that flourished in the 70s will appreciate what Blue Shift has accomplished with this release.

Charlie Plane - Way Out: Charlie Plane is an emerging French indie folk/rock band comprised of Charlotte, lead singer, piano and guitar player and Shob who plays both bass and drums at the same time. Charlie Plane can evoke sometimes Cat Power or Shannon Wright, but it's its own atmosphere that really sets the band apart. Carried by a strong and beautiful voice, the duet captivates the audience with its fragility and tension control. One of the greatest female voice in French folk/rock music, something about the way she sings is just mesmerizing.
Eloy Fritsch - Spiritual Energy: Eloy Fritsch consistently composes elegant and lush works, moving between atmospheric electronic music like Vangelis and the synthesized progressive rock of masters such as Rick Wakeman or Patrick Moraz. A genre that he has explored successfully for many years in his group Apocalypse. On Space Music (1998), the Brazilian keyboardist committed jauntily in dignified flights of two virtuosos mentioned above. With Mythology (2002), our man refines his style, wanting more impressionist and majestic music. This ambitious work justly uses the whole range of his electronic sounds to depict fifteen tracks exclusively dedicated to different gods worshiped in ancient times: The Mesopotamian, Hindu, Native Americans, Incas, African, Greek, Egyptian, Scandinavian, Roman or Chinese are outlined here by an instrumental composition. With his range of keyboards and computers, Eloy Fritsch has been able to give free rein to his imagination. He takes us on a journey extremely relaxing in the fantastic world of mythology ... The next release, too, reveals a great year: from the beginning, the well-appointed Atmosphere - Electronic Suite (2003) evokes the splendor of the most excellent Heaven And Hell (Vangelis), bombastic choirs and majestic orchestral sequences in support. The album once again reveals the ecologist beliefs of its author, who defends the virtues here of the gaseous envelope that allows us all to live on Earth: the atmosphere. Immerse yourself in an ocean of happiness! Landscapes (2005) continues the adventure in the great tradition of Eloy Fritsch. Past And Future Sounds 1996-2006 is the first best-of Eloy Fritsch. There we find twelve gems among the best of his discography, plus four new tracks recorded especially for the occasion. An ideal way to enter the dreamlike musical world of the artist ...
The Garden Of Emotions is the ninth album by keyboardist and Brazilian composer Eloy Fritsch. The new CD presents symphonic themes with choirs, analog and digital synthesizers dominating the whole. Fans of classic Vangelis, Jean-Michel Jarre and Rick Wakeman will not be disappointed. One of the most solemn themes reminds of Isao Tomita. "Lumine Solis" is one of the best compositions and it is a choral piece. "Solar Energy" produces a spatial atmosphere with labor and phasing sequences recalling the Berlin School. This is music of pure electronics and at very high level, with all sorts of really fat analog timbres. "Beyond The Mountains" is very dynamic and it is a return to the classically inspired structures, with extra ethnic elements. "Electric Light" is synthetic and even recalls Kraftwerk, with repetitive sequences, vocoders and a simple repeating melodic theme. Flute, marimba and percussion sounds of "Savage" before the appearance of a melodic theme played synthesizers. "Space Station" is another foray into a world purely synthetic, and you could also make a comparison with "Timeline" by Jean-Michel Jarre. "The Canyon Of Hope" finishes this album with flowing synthesizers, symphonic textures and an electric piano inciting reverie.
[Spiritual Energy was released in December 2014 and features 17 new compositions - ed.]
Mario Guccio - Link: Mario Guccio, singer of Machiavelli released his first solo album album Link A work of "musical patchwork," a process of "devolution," a back to the roots release. This "devolution" is an evolution in itself because it puts the sounds in our present to give them a new impetus. Link is an original creation and artistic research based on the theme of the link. The link, as a symbol of our relationship to the world in all its subtlety and richness in our relationship to others and to ourselves. This album will make you travel through atmospheres and haunting atmospheres. A pure and clear voice, text and addictive melodies conducive to the exploration of our inner selves.
Lucien Joly - Impossible Love: Lucien Joly, born in February 1955 in Martinique, Sax Tenor. "After releasing several albums, I was keen to get into a new record. In 2009 in Paris, so I met Tommie Lee McKenzie, American bassist and I appealed to Georges-Edouard Nouel, Tom Moretti and Prosper Holy Love. We recorded 4 titles. In 2011, I continued my adventure in New York. A friend was looking for musicians. In the studio, 4 musicians including 2 women arrived: Miss Dominique Granier, pianist and Miss Jackie Coleman, trumpeter; and Leon Cutler and Kokayi Yahoteh. This is the first time I played with female instrumentalists. During the rehearsal, Miss Dominique Granier suggested some changes to the arrangements. 3 titles have been realized. I am very satisfied with the talent of these musicians and other musicians. In 2013, again in New York, thus "Joe" was recorded with another pianist Calvin Brown, excellent. Then in 2014, the sound engineer Tariq Khan offered me three young musicians: Yuki Hirano on piano, Davil J. Guinyard on bass and Justin Tyson on drums. It was a great time in the studio reocrding "One Day in Port of Spain." Finally, back in France for mixing, with Frédéric Cornier HBS France. Of course everything was born: my new album, Impossible Love."

Kadosh - BabelEyes: Composed for voice and orchestra by sinfonietta Kadosh, BabelEyes is a unique album on the disappearance of languages [hense the subtitle of Disappearing Languages -ed.]. The composer's leads never go where they lose their senses. Interpreted by Tete Espindola, Rosalie Hartog, David Linx and Dani Black, they are reborn in another form instead of disappearing from our eyes. "I was really surprised by the musical concept, the quality of the compositions, orchestrations and arrangements. Extremely interesting, bold, with surprises in every movement. Congratulations to Tetê Espindola for participation and special congratulations to Kadosh for its creation." (Egberto Gismonti, composer)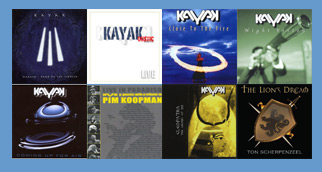 Kayak - Merlin - Bard Of The Unseen, KayakOustic Live, Close To The Fire, Night Vision, Coming Up For Air, Live In Paradiso: A Tribute To Pim Koopman, Cleopatra - The Crown Of Isis: Major Dutch Progressive Rock group (who managed to slightly penetrate the US ...), Kayak offers a smooth and sophisticated music, with the sweet voice of Edward Reekers (a la the The Moody Blues). And Ton Scherpenzeel (future Camel) on keyboards. The music based on highly constructed melodies, arranged, refined, combining with accuracy and balance, beautiful vocal and instrumental parts. Kayak was considered a subtle mix of Genesis and the best of Supertramp. They also know how develop subtle and effective instrumentals. See See The Sun is an album of 1973. After the great Close To The Fire (2000), Night Vision (2001) marks a little the return of the group at the new millennium. This major opus is a success, including having had at his disposal a set of strings, wind instruments and choir.
[Merlin - Bard Of The Unseen, KayakOustic Live, Close To The Fire, Night Vision, Coming Up For Air, Live In Paradiso: A Tribute To Pim Koopman, Cleopatra - The Crown Of Isis and the solo Scherpenzeel release The Lion's Dream all see reissue.]
Raissa Lahcine - Premier Album: Raissa Lahcine with Premier Album offers a journey into an eclectic universe where the song text dominates, a journey that reveals the singer/author/composer's multiple origins (France, Italy, Algeria). Her voice betrays mixture that makes it unique: the serious result, the woman called the child. Her words are her own but ours too. These are simple words she loves, abrupt or smooth to the touch, words that tell the story of a woman. Her music opens borders between the world, the text and jazz, humor and melancholy. Premier Album is a meeting between musicians from various backgrounds: jazz with Sébastien Paindestre (arrangements and piano), world with Pierre Baillot (Oud) and Remi Merlet (percussion) and finally the classic with Maëva Le Berre (cello).
Stéphane Lemaire - Sous La Canopée: The keyboards player of the reformed Moving Gelatine Plates (Removing, 2006), French musician Stéphane Lemaire presented his first opus, enigmatically entitled L'Etang De Kukufah (Kukufah Pond). Released in 2007 on the Gazul label, this album includes both written and improvised orchestral music. It contains different soundscapes where keyboards, synthesizers, tap guitar, concrete sounds, noises and voices are blended. Inspiration is definitely coming from repetitive American music, especially the works of masters such as Philip Glass, Steve Reich or Terry Riley. Robert Fripp & Brian Eno's experimentations also left a mark here, as well as Klaus Schulze or Scandinavian jazz... to be discovered!
[His latest is Sous La Canopée]

Mandala - Midnight Twilight: Mandala was formed in London in 1997 by Rhys Marsh (voice, guitar), Francis Booth (bass) and Will Spurling (drums). After playing hundreds of concerts across Europe and North America, though never recording an album, they disbanded in 2006. Now, they're back together and are ready to present their debut album, featuring songs written during their first time around, between 1997 - 2005, and recorded in 2014. The main tracks were recorded live in the studio, in Autumnsongs Recording Studio in Norway, with overdubs being added both there and in London.
As soon as you push the play button, the blistering energy explodes from the speakers. This is what they were known and loved for, and this is exactly what they captured on tape. It's not often that a debut album could've been a greatest hits album, but having played these songs to hundreds of audiences, this is what Midnight Twilight is set to become to those who've followed the band since its inception. This album has been eighteen years in the making. We hope you agree that it's been worth the wait.
Mollmaskin - Heartbreak In ((Stereo)): Mollmaskin is the solo project of Anders Bjermeland, leader of the psychedelic adventurers Flashback Caruso, and also one of the drummers in Rhys Marsh And The Autumn Ghost. As Mollmaskin, Bjermeland operates alone, playing drums, piano, guitar, saxophone, flute, organ, Rhodes, bass, clarinet, synth, percussion and vocals. The album will be presented as a double CD, with a "Left" and "Right" side -- each disc around 25 minutes in length -- and was recorded and mixed by Rhys Marsh.

Osiris - The Myth & The Legend - Live in Bahrain: Osiris is probably one of the only, if not the only Arabic Progressive rock bands! Another original, and not least in its musicians originating in Bahrain, a small island country in the Persian Gulf. The brothers Al-Sadeqi and their accomplices released two great albums during the Eighties, now reissued by the Musea label: a self-titled album in 1982 and Myths And Legends two years later. They both offer delicate Progressive rock, based on rich melody variations, varied instrumental interlacement and ethereal developments. The musicians are fond of multiple combinations between numerous instruments (guitar, two keyboards, flutes, vibraphone percussion). Despite their origin, their music is not dated and is ultimately strong on virtuosity and inspired by some of prog rock "royality"(Camel, Caravan, Genesis, Finch ...) with instrumentation worthy of the best.
The icing on the cake is that some welcome oriental influences can be found in places ... Released on cassette in 1989, Reflections shows a lush and hyper-sophisticated mural. Beyond Control - Live comes from a stage performance given in 1991; the group declined to overdub, to be honest with his music and his audience. These eight pieces blend extracts of their three albums with four unpublished. This surprising music bears comparison with the best, both in composition and in interpretation! Visions From The Past (2007) is the title of the highly anticipated new studio album Osiris, a concept album based on the story of an old man who refuses modernization in Bahrain and wants to return to the good old days when things were simpler and innocent. Using traditional Arab poetry (translated to English in the booklet), Osiris includes more than before rhythms or traditional percussion, while keeping the qualities they're known for. Exceptional melodies that remind of a Camel or Genesis. Superb! Visions From The Past is actually a continuation of an epic work that the band played in the mid-eighties entitled Tales Of The Other. These stories of divers finally have resurfaced in the year 2010, in the guise of a live recording captured a quarter of a century ago. We find this willingness to integrate music and culture in Bahraïnies Osiris, a will which is reflected in the appearance of a percussion ensemble traditional, and the inclusion of poems in Arabic. Spartan conditions at the time of registration are fortunately counterbalanced by great job remixing, an arduous task that eventually led to the rehabilitation of a forgotten gem. Only remains now to be immersed completely…
[As the title suggests, the most recent offering is a live DVD, but I can find few other details. It was recorded in 2011 (according to info at Beyondrock.nl) and now seeing release -ed.]

Stefan Patry / René Sapa - Hammondéon: Chromatic accordion, Hammond B3 organ. Two instruments, two musicians, René Sapa and Stefan Patry, two great talents to the same musical sensuality. The Hammond organ plays with powerful and different sound effects and leaves the field open to the spirit of the virtuoso accordion. A real treat throughout this album, a mix of fast songs, swing and material that sounds very Latin. This Latin color is enhanced by the presence on the album of Jaco Largent percussion (ex-Sixun) and François Morin on drums; they withdraw elegantly to make room for enveloping melodies and ballads full charm and sweetness. For more than mastery of instruments within a "magic formula" is really the finessed interpretations that emerge from this album.

Progression By Failure - Sonic Travelogue: Progression By Failure is a project initiated by a young French composer named Nicolas Piveteau. He started playing keyboards at ten years old, and also performs on guitar and drums. This project is a vision of Progressive music, based on a large panorama between power and emotions. The search of beautiful melodies, power riffs and light atmospheres, is the essence of this project. In 2009, Nicolas Piveteau composes and records alone, a self-titled album released on the Musea Parallèle label. This record is influenced by Progressive rock, but also by heavy-metal and pop music. After this success, Progression By Failure recorded nine new tracks for its second album, named Sonic Travelogue. From a length of 4 to 12 minutes, these new compositions mix Seventies Progressive rock, classical music, jazz, post-rock, and so on. Nicolas Piveteau hired Drayen Labie on guitars and Mike Saccoman on drums. As for the artwork, it has been designed by Duncan Storr, who previously worked for Hawkwind and Skyclad, amongst others. To be discovered!

David Sait - Hail The Hunters: David Sait's Hail The Hunters is an instrumental improvisation played on electric guzheng, an ancient Chinese instrument. World Music improviser David Sait lives and creates in the Great White North of Canada. He has developed a mysterious music experience made on an intriguing instrument. A curious collection of contemporary techniques and tunings are the primary source for his music made on the guzheng, an ancient Chinese instrument. It is a 21 long stringed zither that dates back more than 2,000 years with moveable bridges and a majestic wooden construction. David is currently active collaborating in the Toronto based creative community, he is a long standing co-editor of Soundlist, curator of the experimental music series Gone Fishing, seasonally provides a live music backdrop for contact dance jams at the Dovercourt House, creates art collages, develops graphic design for various projects and he is adamantly exploring the boudaries of electric and acoustic guzheng sounds.

Yochk'o Seffer Quartet - Red Mysticum: Yochk'o is a complete artist. This disciple of John Coltrane, Ornette Coleman and Pharoah Sanders joined the Magma in the late 70s before playing for Faton Cahen and ZAO then Nefesh Music. Later, he created the Yochk'o Seffer formation with Didier Levallet bass, Sébastien Lovato on piano and Jean-Pascal Molina on drums. This is one of the finest expressions free jazz tenor sax and alto and strange instruments he makes with bottles plastic-fitted assemblies of sax mouthpieces! Yochk'o Seffer Jazz Quartet performed the Red Mysticum album live joined on stage by a guest, Didier Malherbes, on the duduk, which is a unique opportunity to enjoy its great flights of improvisation.
Signs Of The Silhouette - Spring Grove: This is the fourth album by Signs Of The Silhouette, an Avant Garde and Psychedelic band from Portugal. Four tracks and something like eighty minutes of hypnotic psychedelic music. Musically, Spring Grove can be compared to some of the tracks from Acid Mother Temple, Can, Third etc. The project blends adventurous sound explorations with video art. Forms, ideas and colors contaminate the concept of sound and time.

La Societe Des Timides A La Parade Des Oiseaux - Les Liquidateurs: A tribute for all the men and women who gave their life, an homage to what they felt, what they lived, what they had to endure during the rescue mission of the nuclear reactor accident of Chernobyl. The history mentioned here is about a young liquidator from Armenia. It is freely adapted from the movie The Battle Of Chernobyl directed by Thomas Johnson (topdocumentaryfilms.com/the-battle-of-chernobyl/). The musical composition is divided in 6 parts, separated by "fragments" describing the impact of the radioactivity on (the nearby town) Pipriat's daily life, ignoring the deathly danger. The chronology includes the alarm and liquidator mobilisation's stage, the listening of the instructions given by the chiefs, the rush to the reactor, the hesitation of the president in charge (Gorbatchev), the absolute horror on the roof of the reactor until the death of the liquidator. We precisely follow the story of a young Armenian liquidator, lost into his lack of understanding of the Russian instructions, with fear in his stomach, and his extraordinary sense of duty. By sacrifying himself like hundreds of thousands of his comrades, he's going to save humanity. The disc is a 33rpm's vinyl record (12") of about 35 min 's duration, with an album cover made of a silkscreen printing performed by Pakito Bolino from the French collectif Le Dernier Cri.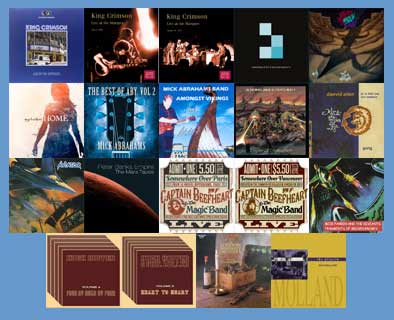 DCM have a few more King Crimson releases on offer: Live At The Orpheum, The Collectors' Club Series - Live At The Marquee - July 6, 1969, The Collectors' Club Series - Live At the Marquee - August 10, 1971. From the Gentle Art Of Music, there's Parzival's Eye - Defragments, Simeon Soul Charger - A Trick Of The Light and Sylvan - Home (of which I heard a bit of (so far), quite lush, quite good). And finally, from Gonzo, a ton of titles, Mick Abrahams - The Best of Aby - Volume Two and Amongst Vikings - Live At The Gimle Club - Roskilde, Denmark, Daevid Allen - Je Ne Fum' Pas Des Bananes, Al Atkins & Paul May - Empire Of Destruction, Aviator - Turbulence, Peter Banks Empire - The Mars Tapes, Captain Beefheart & His Magic Band - Somewhere Over Paris - From Le Nouvel Hippodrome, Paris and Somewhere Over Vancouver - Commodore Ballroom, Vancouver 1981, Mick Farren & The Deviants - Fragments Of Broken Probes, Hugh Hopper - Volume Four - Four By Hugh By Four, Hugh Hopper & Phil Miller - Volume Five - Heart To Heart, Jethro Tull & The London Symphony Orchestra - A Classic Case - Plays The Music Of…, Joey Molland - The Pilgrim, and Patto - Music To Loon By.