Rocket Scientists Conclude Banner Spring Tour
Date: Monday, May 21 @ 08:42:32 UTC
Topic: Band News (tours, comings/goings, etc)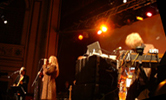 Acclaimed American progressive rock legends Rocket Scientists returned to their home turf after touring Europe and concluding with a colossal final concert at USA's RoSFest. The tour kicked off on Saturday, April 7th in Rotherham, England sponsored by the Classic Rock Society and concluded on April 28th at the Rites of Spring Festival in Phoenixville, Pennsylvania. The Rotherham, England show commemorated Rocket Scientists' first live concert on European ground in 10 years. Additional tour dates were held in Belgium, The Netherlands and Germany where Rocket Scientists were welcomed by very receptive audiences.
"I really had a fantastic time touring with Rocket Scientists again", states Erik Norlander, keyboardist, songwriter and one of the core members of Rocket Scientists. "Over the last several years I have been playing in Europe, Japan, the USA and basically all over the world with Lana Lane and my solo project, but to take Rocket Scientists out on the road again after so much time has gone by was really a special event. Rocket Scientists has played some one-off shows occasionally, but this was the first real 'Rocket Scientists Tour' in 10 years! The Rotherham UK show was particularly memorable as that was where Rocket Scientists played our first - ever concert way back in 1997. So we had a little anniversary celebration there. For the musicians themselves, I have known Mark McCrite and Don Schiff for over 20 years now, and it's so easy to play with them. Guitarist Peer Verschuren and drummer Ernst Van Ee completed the picture as our Dutch 'secret weapon,' and after touring with these guys for so many years with my solo project, it was simply a natural evolution to bring them into the Rocket Scientists universe. And of course Lana made the shows extra special with her guest appearance on the last songs of the set. I hope this will be a new beginning of more great RS concert tours for the future."
The musician lineup for the Rocket Scientists Tour in both Europe and the USA included Erik Norlander - keyboards, Mark McCrite - vocals, guitar and Don Schiff - NS/Stick joined by guest musicians Peer Verschuren on guitar and Ernst Van Ee on drums. Symphonic rock diva Lana Lane also made a special guest appearance on the tour performing several songs at the end of each Rocket Scientists set.
Photos from the Rocket Scientists/RoSFest show in Pennsylvania are posted at http://www.thetank.com/photo-rosfest-07.htm. For more information about Rocket Scientists, please visit www.thetank.com/rocketscientists.htm or www.myspace.com/rocketscientistsband. For more information about Lana Lane, please visit www.lanalane.com or www.myspace.com/eriknorlanderandlanalane.
[Add'l RoSFest photos here: www.progressiveworld.net/rf2007_rocketscientists.html -ed.]
[Source: Serge Entertainment PR]