CD/DVD Releases: Fatal Fusion Enter ''The Land Of The Sun''
TSM are delighted to announce the new release from Fatal Fusion, Land Of The Sun (released November 10, 2010).
Fatal Fusion is a progressive rock group of five people from Norway, who have just released their debut album Land Of The Sun. The group got together in early 2008, after emerging from the ashes of several Rock/Blues covers bands, prog rock and hard rock bands dating, back to the 1980s. Though they consider themselves as a "Classic-Rock/Prog-Rock band," the influences are many, from Blues, Jazz, Latin,Prog, Neo Prog, Psychedelia, Hard rock, Funk and Classical music.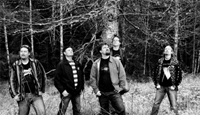 They like to explore and mix styles together, trying to get a broad musical landscape. They also try to stay close to the classic prog rock sound of the 1960s & 70s, using a lot of vintage sounds like Rhodes piano, Mellotron, Hammond Organ, Moog & Prophet synthesizers.
The Band:
Knut Erik Grøntvedt - Vocals
Stig Selnes - Guitars
Erlend Engebretsen - Keyboards
Lasse Lie - Bass
Audun Engebretsen - Drums
Tracklisting:
1- Land Of The Sun
2- Cry No More
3- Promises
4- Love In The Sky
5- Shot To The Ground
6- Remember
7- Broken Man
8- Out To The Fields
[Source: TSM Productions]