Artist News: Rhapsody Of Fire Announces New Guitarist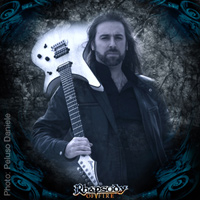 Italian symphonic metal masters Rhapsody Of Fire have announced the addition of guitarist Roberto De Micheli to the group's ranks.
Commented the band: "After weeks of considering whom among thousands of guitar players would be chosen to join the band on their upcoming world tour, Rhapsody Of Fire had finally selected the very best guitarist out of many great guitar players wanting to tour with them."
Added keyboardist Alex Staropoli, "With so many very good guitar players to chose from, it took time and great care to find the absolute best guitar player for us. In the end, we decided on Roberto De Micheli due to his complete mastery of the guitar, his unique abilities to amaze all those who hear and watch him play live, and his complete dedication as a musician.

"I have known Roberto De Micheli since the early 1990s. The decision to finally choose him over all other guitarists in the world to play with us became very obvious and natural the more we considered all our options. After so many years, he is still highly devoted to his instrument. He remains passionate and enthusiastic about rehearsing and playing music many hours every day. He is also a perfect fit for Rhapsody Of Fire because he continues the band's tradition of being a truly professional, polite and a positive person to work with.
"Roberto De Micheli and Tom Hess are already working together on their guitar parts for the upcoming Rhapsody Of Fire tour; that's just very exciting! The huge anticipation of the band's new lineup, sound and upcoming world tour has been something much greater and more exciting than we have ever experienced before from fans all over the world."
Rhapsody Of Fire recently revealed the name of the new musician who will join forces with Fabio Lione, Alex Staropoli, Tom Hess and Alex Holzwarth in the band's new and revamped lineup. German bass player Oliver Holzwarth (brother of Rhapsody Of Fire drummer Alex Holzwarth) has been recruited as an official and permanent member of Rhapsody Of Fire, and will be involved in both live performances and studio recordings.
Oliver is an excellent bass player who has toured with Blind Guardian, Tarja Turunen and Sieges Even and has recorded several studio albums with Blind Guardian.
Staropoli and Rhapsody Of Fire guitarist Luca Turilli recently announced their decision to go their separate ways.
Due to legal reasons, Staropoli will continue under the Rhapsody Of Fire name. Turilli, on the other hand, will make his future efforts available under the Rhapsody moniker (Rhapsody Of Fire's original name), in which he will be joined by musicians Dominique Leurquin, Patrice Guers and Alex Holzwarth.
Rhapsody Of Fire's latest album, From Chaos To Eternity, was released in North America on July 12 via Nuclear Blast Records. Described by the band as "the natural evolution" from last year's The Frozen Tears Of Angels, the CD marks Rhapsody Of Fire's final release based on the fantasy saga started in 1997 with the group's debut album, Legendary Tales.
[Source: Blabbermouth.net, Rhapsody Of Fire website]