CD/DVD Releases: Evergrey's 'A Decade And A Half' Two-Disc Greatest-Hits Collection Due In Novemb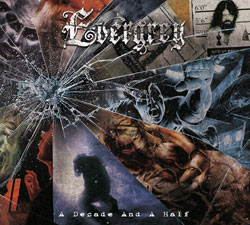 Swedish metallers Evergrey will release A Decade And A Half, a two-disc greatest-hits collection, in North America on November 22 via SPV/Steamhammer. This deluxe package contains previously unreleased songs, live tracks and an extensive booklet.
Since the band arrived on the scene with its first album in 1998, Evergrey has brought out eight studio albums and one live release. All of them made the Top 20 in their native Sweden and the last two landed in the Top 10. On top of that, their DVD, A Night To Remember, was No. 1 for four weeks and nominated for an the Swedish Grammy equivalent.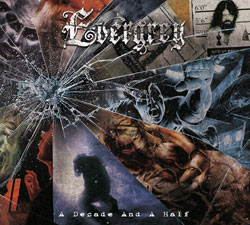 A Decade And A Half track listing:
CD 1:
01. The Masterplan
02. Blackened Dawn (live)
03. Rulers Of The Mind
04. A Touch Of Blessing
05. Frozen
06. For Every Tear That Falls (live)
07. More Than Ever
08. Blinded
09. Faith Restored
10. These Scars
11. Broken Wings
12. Words Mean Nothing
13. Wrong (live) (unplugged; previously unreleased)
CD 2:
01. The Great Deceiver
02. Monday Morning Apocalypse
03. Wrong
04. Waking Up Blind (live)
05. Solitude Within
06. Recreation Day
07. Still In The Water
08. Leave It Behind Us
09. Fear
10. When The Walls Go Down (live)
11. Frozen (live) (unplugged; previously unreleased)
Evergrey's latest album, Glorious Collision, sold around 900 copies in the United States in its first week of release. The CD landed at position No. 49 on the Top New Artist Albums (Heatseekers) chart, which lists the best-selling albums by new and developing artists, defined as those who have never appeared in the Top 100 of The Billboard 200.
Evergrey's current lineup includes Englund and keyboardist Rikard Zander alongside new members Marcus Jidell (guitar), Hannes Van Dahl (drums) and Johan Niemann (bass).
[Source: Blabbermouth.net]