CD/DVD Releases: Preview Clips Of ''Testimony 2 Live'' DVD Available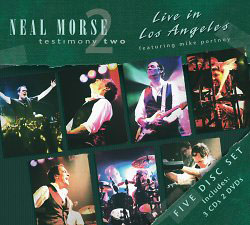 Radiant Records writes: "Brand new preview of the Testimony 2 Live DVD is now up at www.radiantrecords.com! [view it here] We will be posting new video clips every week from Neal Morse and Transatlantic, so keep checking in to see what's new!!!
"The first 5 days of pre-sales for the new Neal Morse - Testimony 2 Live In L.A. and Transatlantic - More Never Is Enough have been amazing!!!
"The 1st 100 Bundles, that will be signed by both Neal Morse and Mike Portnoy, sold in just 6 minutes, and sales have been non-stop ever since!!!

"Don't miss out on these killer releases with each having over 6 hours of live music and video, including never before seen footage from both the Testimony 2 Tour and the Transatlantic Whirld Tour, all packaged in awesome 5 Disc Digi-paks."
[View a Transatlantic preview here]
"Also, while you're there check out the other artists and new albums that we have in stock like:
"The Flower Kings, Tour Kaputt, DVD and 2 CD Set; 3rd World Electric, Kilimanjaro Sweet Brew; Karmakanic & Agents of Mercy, The Power Of Two, and Agents Of Mercy's latest, The Black Forest."
[Source: Radiant Records]