CD/DVD Releases: Drakkar Reveal ''When Lightning Strikes'' Artwork And Tracklist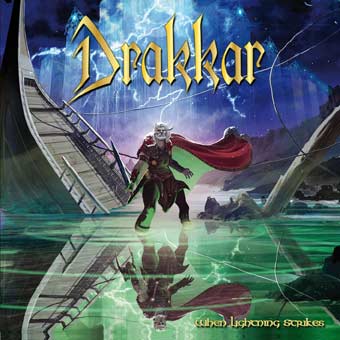 Finally the new Drakkar album starts to be something concrete and definitive. Find here the cover artwork of the new album When Lightning Strikes
The album has been recorded and mixed at Elnor Studio by Mattia Stanciou (Labyrinth, Crown Of Autumn) and mastered at House Of Audio/Hofa by Jürgen Lusky (Angra, Pink Cream 69). It's once again an epic concept album that melds powerful riffs, majestic melodies and a true metal attitude. The story behind the lyrics is a tale of classic science fiction with historical elements that is sure to captivate the more imaginative listeners. The record will be followed and promoted by a series of live shows in Europe and of course in Italy.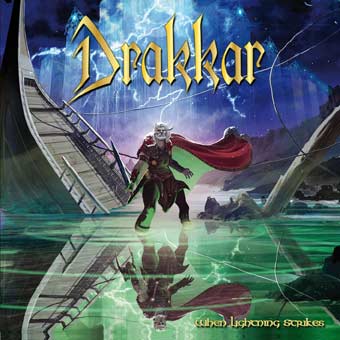 Here is the definitive tracklist: 1. Hyperspace - The Arrival - 2. Day Of The Gods - 3. The Armageddon Machine - 4. In The Belly Of The Beast - 5. Revenge Is Done - 6. When Lightning Strikes - 7. Winter Soldiers - 8. Salvation - 9. At The Flaming Shores Of Heaven - 10. We Ride - 11. The Awakening - 12. My Endless Flight - 13. Aftermath - The Departure - 14. Engage! - 15. New Frontier
The dragonship sails on and you have just to follow its wake...
Released by My Kingdom Music
[I think it's pretty cool artwork... like the best artwork, it draws you in to look at the detail... I recall some earlier CD (forget who and the artist) where there too the reflection was different... this reveals both the "sci-fi" and the "historical" (in this case Viking) elements of the story. This is the band's fourth full-length release; fifth if you include the 2007 EP.]
[Source: My Kingdom Music]