CD/DVD Releases: Haze's New CD "The Last Battle" Has Been Released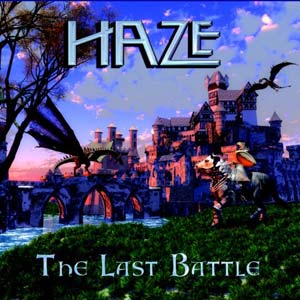 Chris McMahon writes: "Haze - The Last Battle, our first studio CD in over 20 years, is released today [Mar 25]! Available from Amazon and www.gabadon.co.uk
"Here's the full press release:-
"Veteran rockers Haze have recorded their first studio CD of new original songs in over 20 years. The Last Battle features 14 new recordings by the 'classic' Haze line-up of the McMahon brothers and Paul Chisnell, with sisters Cat & Ceri Ashton adding strings & woodwind.

"Formed in the late 70s by brothers Chris & Paul, they were joined by Paul Chisnell in '83 and established their reputation as one of the hardest working underground bands of the 80s. The band released 2 LPs, 3 singles & countless cassettes & played over 500 shows around the UK & Europe before disbanding after a farewell concert at Sheffield University in '88.
"The McMahon brothers continued with World Turtle, who released 2 CDs on Cyclops Records, who also reissued the Haze back catalogue on CD.
"In 1998 Haze reformed for a 20th anniversary show, which was released as a double CD on Cyclops Records.
"For the next 10 years the band played intermittently together, including European tours & festival appearances, but primarily concentrated on their acoustic band Treebeard, who released 2 CDs & were very much in demand on the folk & beer festival circuit.
"In 2008 Haze got together again for a couple of 30th anniversary shows, again released by Cyclops Records, and in 2010 toured Italy; one show from this tour was released as the In That Branch Of The Lake DVD.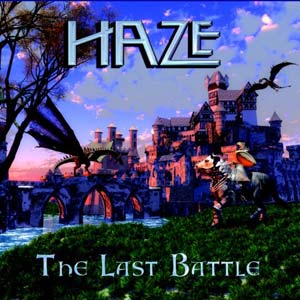 "Mainly due to persuading from the Italian tour promoter Daniele Castracane, the band went into The Laundry Room studio in Sheffield to record drum tracks for what was to become The Last Battle.
"Just before the CD was due for release, and the band were about to announce tour dates, drummer Paul Chisnell retired from playing, citing increasingly bad tinnitus for his inability to continue.
"The band immediately recruited Danny McMahon, son of guitarist Paul, to fill the vacant drum stool. Although only 14, Danny has been playing drums for over 7 years, and has frequently guested with the band at local shows & parties.
"Despite building their reputation as a progressive rock band, Haze have always drawn on a wide variety of influences, ranging from pop, rock, funk, metal, meandering psychedelic jams to tightly structured prog epics.
"The new CD draws on all these, plus a strong folk, acoustic & medieval influence from the use of acoustic guitars, bouzouki & mandolin, plus Ceri Ashton's contribution on whistle, flute, clarinet, viola & cello, and sister Catrin on fiddle & flute add a folky & sometimes classical feel.
"Combined with Danny's love of modern metal we are confident this is the beginning of an exciting new phase in the band's career!"
[Source: Chris McMahon via eProg]