Secret Oyster Closes ProgDay 2008!
Date: Monday, July 21 @ 04:13:52 UTC
Topic: Festival News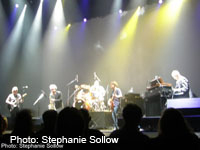 ProgDay announces Secret Oyster, the legendary fusion group from Denmark, as our closing band on Sunday. The band was formed in 1972 by Karsted Vogel (saxophones, keyboards) of Burnin' Red Ivanhoe who had a vision of a new band featuring long improvisational instrumental passages pushed along by a driving rhythm section. Joined by Claus B?hling (guitar), Kenneth Knudsen (keyboards), Bo Anderson (drums) and Mads Vinding (bass), that vision birthed what would eventually be one of the foremost fusion ensembles to arise out of Europe in the 1970s.
Secret Oyster was incredibly active in the 70s, releasing four studio albums to great commercial and critical success and performing over 500 concerts (including a 30,000 sellout in Paris) with the likes of Weather Report, Shakti, George Duke and Herbie Hancock. They were poised by Columbia Records to be their next big thing after Weather Report, but when CBS changed direction and withdrew their support, the band began to unravel, ultimately playing what everyone thought was their final show in December, 1977.
Then in 2006, The Laser's Edge made Secret Oyster's 70's recordings available for the first time on CD. The renewed interest in the band prompted an invitation to perform at NEARfest. After 30 years of not performing, the band reunited and played their first show in America at NEARfest 2007.
ProgDay is thrilled to bring Secret Oyster back for their first US appearance since their triumphant return. We're sure it will be a performance to remember!
[Source: ProgDay; photo: ? Stephanie Sollow - Secret Oyster at NF2007]