Michael Sadler's Saga With Saga Continues...
Date: Monday, January 31 @ 01:00:00 UTC
Topic: Band News (tours, comings/goings, etc)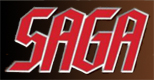 Canadian rockers Saga have been rejoined by the band's original singer, Michael Sadler. The group is in the process of recording a new CD, to be released later this year through Edel AG.
The band's official announcement reads: "To put all the rumours to rest we are happy to officially announce that Michael Sadler is once again the singer and frontman in Saga!! The new studio CD and tour news with Michael will be up very soon! We wish Rob [Moratti] all the best in the future with his new solo CD!"
Saga's most recent vocalist, Rob Moratti, replaced Sadler during the years 2008 through 2010 and appeared on the band's 2009 release, The Human Condition.

Originally known as The Pockets, Saga formed in 1977 from the nucleus of popular Canadian rock band Fludd. In June 1978, they released their self-titled debut album. A modest success in Canada, it would eventually sell over 50,000 copies in Germany as an import.
Saga has released a total of 19 studio albums, five live albums, five compilations and one interactive CD and four live video/DVDs. They have 8 million in sales to date.
Saga is:
Michael Sadler - Lead Vocals
Ian Crichton - Guitar
Jim Crichton - Bass , Keyboards
Jim Gilmour - Keyboards, Vocals
Brian Doerner - Drums
[Source: Blabbermouth.net, Saga website]