Crown Of Autumn Join Forces With My Kingdom Music
Date: Friday, February 18 @ 21:00:00 UTC
Topic: Band News (tours, comings/goings, etc)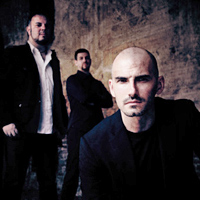 "My Kingdom Music is absolutely delighted to announce that they have signed one of the best Italian Metal bands ever: Crown Of Autumn. We will release their brand new album titled Splendours From The Dark on May 6th.
"Crown Of Autumn rise again after more than a decade of enchanted sleep with their dreamy melodies, epic rides, warlike fury and of course those typical medieval inserts which made their 1997 debut The Treasures Arcane a true underground cult.

"So commented the band: 'After negotiations with several labels we have just signed a deal with My Kingdom Music and we are really excited to work with them for the quality, non-conformism and artistic sophistication of their releases. To present this new full length album we could just say that it is a musical kaleidoscope of past and future enigmas, brought to your ears by a very compact and fresh sound that never betrays our roots. A renewed line-up gives to the 11 songs of Splendours From The Dark the most intense expression ever, alternating various vocal styles such as dark whispers, powerful male singing, wrathful screams and delicate female vocals touches. It's for sure a new milestone along Crown Of Autumn's artistic path.'"
[Source: My Kingdom Music]