James LaBrie Featured On Eden's Curse single ''No Holy Man''
Date: Saturday, March 05 @ 20:00:00 UTC
Topic: Band News (tours, comings/goings, etc)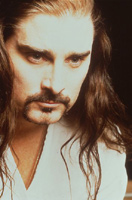 "AFM Records have released the brand new Eden's Curse digital download single, 'No Holy Man,' featuring Dream Theater vocalist James LaBrie.
"'No Holy Man' is the first track to be released from the group's forthcoming third studio album Trinity, which will hit the stores on 18th March.
"Duetting with Michael Eden on this epic anthem, LaBrie enthused, 'In 2010 I was fortunate to discover Eden's Curse. I absolutely love this band. Great players and people and they deserve nothing but huge success! They belong with the best of today's music. Trust me, you're going to love this from beginning to end.'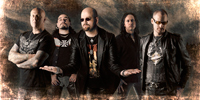 "For more information on Eden's Curse, including a 30 second snippet of 'No Holy Man,' please visit: www.edenscurse.com."
Eden's Curse are: Michael Eden - Vocals
Thorsten Koehne - guitars
Paul Logue - bass
Ferdy Doernberg - keyboards
Pete Newdeck - drums
In late August 2007 the Rock and Metal world witnessed the birth of Eden's Curse, a multi-national Melodic Metal group with its members spanning four countries and two continents. Formed in January 2006 by chief songwriter and bassist and Scotsman Paul Logue and United States born and bred vocalist Michael Eden, these two musicians hatched a plan to form a group utilizing the wonders of modern technology and in particular the world wide web. Armed with nothing but passion, spirit and an uncompromising batch of hyper rock songs, they found guitar virtuoso Thorsten Koehne and drummer Pete Newdeck, before experienced keyboard player Ferdy Doernberg completed the lineup in June 2006.
With heavy weights such as Dennis Ward and band colleague David Readman of Pink Cream 69, as well as Doogie White and Carsten Schulz in their corner, the group signed to AFM Records and their [debut] album not only burst but more like exploded onto the scene in late August 2007 to critical acclaim.
The group faired extremely well in the 2007 end of year votes throughout the global Rock & Metal press with the highlights being voted Best Newcomer of 2007 by RockUnited.Com readers, Best Metal/Prog Album 2007 by MelodicRock.com and Thorsten Koehne being awarded Guitarist Of The Year 2007, also by MelodicRock.com.
[Source: Dream Theater Newsletter, AFM Records website]