"Songs, Poems And A Lady" - Empirical Time Releases A New Album
Date: Tuesday, December 31 @ 15:07:21 UTC
Topic: Album Release News


Italian prog rockers Empirical Time have released their debut Songs, Poems And A Lady through Ma.Ra.Cash. Records; recorded at Prosdocimi Recording Studio and mastered by Ronan Chris Murphy.
"It seemed a thing that could not feel the touch of earthly years", recites the first verse of "A Slumber Did My Spirit Seal," the opening track of the disc. The listener is soon left with a question: Who is this mysterious woman? The woman behind the cover, the "lady" of the title? This will be a question that the listener will arise for the duration of the disc, which leads him to imagine and try to decipher the identity and the features of this elusive lady who, like diamonds, "has got a thousand faces." It is perhaps a divine entity that, in fact, is not affected by the passage of time? It is perhaps the cold and motionless corpse of a young girl: "No motion Has she now, no force; She neither hears nor sees." Or a young lover, "as fresh as a rose in June"? Or is the synthesis of all this?


Empirical Time set to music the famous Lucy poems of the English poet William Wordsworth, and interact with the original texts ("Diamond Lady Pt. I & II") to create a strong intertextual and metaphorical fabric that revolves around the female figure.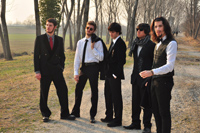 The musical background of Songs, Poems And A Lady is that of progressive rock, a genre in vogue in the '70s, which is revisited and made modern by the band from Padua, creating an innovative sound, without turning its back on the lesson of the classics. Clear Floydian echoes and reminiscences of Genesis and Emerson, Lake and Palmer; the '70s have left an indelible mark in the history of music and Empirical Time want to remind this to their audience. For this reason, the disc hides a real gem: "Whispers From The Past," as the title refers, is the echo of the brilliant musical era, an original song by a band of Padua dated 1970, and brought to light forty years after, a true manifesto of prog revival!
Empirical Time feature, in short, a nice blend of sophisticated music and poetry dominated by female leitmotifs: Songs, poems and a lady, indeed. The disc then explores various creative universes proving that yes, a happy marriage between them is possible and also fruitful: Songs, Poems And A Lady is - as a woman - a fertile album, which continuously generates in the mind of one who gets into deep listening, new interpretive possibilities, new facets, new relationships of meaning. May the mysterious girl be then the album itself? The public will judge!"
[Source: Synpress 44]