Other: Red Masque Post Live Performance On YouTube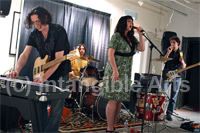 "'Polyphemus' by The Red Masque (live at Pyramid Atlantic on May 21 2011) is now up on YouTube," the band write. "We still have to edit apart and upload the videos for the rest of the show for YouTube, so enjoy this song in the meantime!" "Polyphemus" by The Red Masque
Subscribe to Lynnette's YouTube channel | Link to show photo gallery
Art Interview in The Journal Of Unlikely Entomology
The first issue of The Journal of Unlikely Entomology is now online and Lynnette is the featured artist for its inaugural issue. This new online magazine is devoted to all things creepy and crawly.

Her artwork "The Mosquito" (used on the cover of Fossil Eyes) is used to illustrate the short story, Love in the Absence of Mosquitoes by Mari Ness. In addition, editor Bernie Mojzes and Art Director Linda Saboe conducted an interview with Lynnette, which you can read here.
The interview is mostly about Lynnette's artwork but also delves a bit into the music of The Red Masque as well.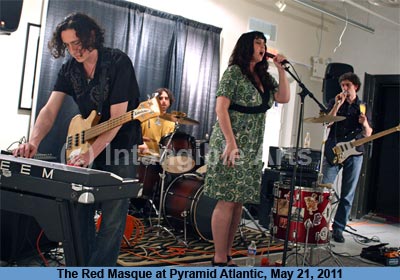 [Source: The Red Masque (photo: © Intangible Arts)]