CD/DVD Releases: Yes, Asia, Dream Theater Members Feat. On All-Star Tribute To Steve Miller Band

A whole host of space cowboys, gangsters of love and legendary music icons from around the globe gather together to pay special tribute to classic rock legends the Steve Miller Band! Now available on Purple Pyramid Records (a division of Cleopatra Records), Fly Like An Eagle features performances by members of Yes, Asia, XTC, Dream Theater, Survivor, The Tubes, Curved Air, Deep Purple, Gong, Nektar and others! With exciting renditions of Steve Miller's classic hits, Fly Like An Eagle - An All-Star Tribute To Steve Miller Band is sure to please music fans worldwide. It also includes some final recordings by guitar legend Peter Banks.

Producer Billy Sherwood of Yes/Circa: fame explains: "Steve Miller has written so many great songs. Working on this record gave me a chance to look deeper into the inner workings of the material and explore it all with so many amazing guest artists.
"It was an honor producing and playing on this project. I think the fans of the music will appreciate the contributions of all the artists involved."
According to the Fly Like An Eagle announcement, that list of artists includes Yes veterans Rick Wakeman and Tony Kaye, Asia's John Wetton, Colin Moulding of XTC, Gong's Steve Hillage, Fee Waybill of the Tubes, Deep Purple's Steve Morse, Jordan Rudess of Dream Theater and guitarist Steve Stevens, among others. The songs also reportedly include The complete track listing for the album, which is available now, is included below.
Fly Like An Eagle track listing:
01. Take The Money And Run
02. Jet Airliner
03. Living In The USA
04. Abracadabra
05. Swingtown
06. Winter Time
07. The Joker
08. Jungle Love
09. Space Cowboy
10. Rock'n Me
11. Fly Like An Eagle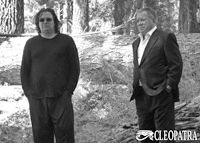 Speaking of Sherwood - Circa:'s album And So On plus the rareties collection Overflow are reissued together on in a 2CD package, which was released on August 27. AND, Sherwood has just completed work on a new album by William Shatner (yes, Star Trek's Captain Kirk...) called Ponder The Mystery. The album is set to launch October 8.
[Source: Blabbermouth.net and Purple Pyramid/Cleopatra Records]